Project Spotlight – Hot Chili's World Class Copper Deposit
Demand for copper is projected to overtake supply as newly built mines has dropped over the years. Exploration for this important metal is once again front of mind.
Chile is one of the top jurisdictions in the world for copper due to the size of the deposits and consistency in grade. The country already boasts a USD$60 plus billion-dollar project pipeline but given the timeframe it takes for new deposits to turn into producing mines, it is important that exploration continues to uncover new discoveries.
Junior mining companies have an important role in the mining ecosystem which is why it is important to highlight companies who have done a tremendous job of building projects in a country where exploration spending has been dominated by majors over the last decade.
One company that comes to mind is Hot Chili (HC). Hot Chili is one of the junior mining companies that has been the most successful in Chile over the past 5 years. The company's exploration success has continued throughout the pandemic in 2020 and 2021.
Hot Chili's success has attracted the attention of majors. Glencore just announced that it recently took a strategic position in Hot Chili – and a seat on the board through a $35m investment making it the company's largest shareholder (9.99%).
Hot Chili is developing three projects that are all in near proximity of each other – Cortadera, Productora, and EL Fuego. The goal is to consolidate the copper projects to form a major copper mining hub on the Chilean coast range.
Cortadera
Cortadera is Hot Chili's newest project with the option agreement only being executed in 2019 giving the company a 100% interest. Since then, the deposit has doubled in size since the acquisition and Hot Chili has delivered six of the world's best copper-gold porphyry drill results confirming Cortadera as one of the most significant copper-gold discoveries of the past decade in Chile.
Located only 14km from Productora deposit, the company's management team believes that it will provide the critical mass required to develop a new, large-scale, long-life, coastal copper mining center.
The company has pushed forward with an aggressive drill program for 2021. There are currently three drill rigs operating at Cortadera with a fourth rig currently being sourced to accelerate the program further. There is 6,302m of assay results pending from 27 holes with results to be reported in October.
Hot Chili now considers that Cortadera alone is likely to grow towards a Tier 1 status (+5Mt contained copper).
Productora
The Productora property was the original project that Hot Chili picked up when it entered the country. It is already a producing asset, with modest tonnages of high-grade ore being fed to the Chilean government nearby ENAMI mill, which is located only 15 km away, 
Mineral Resources already stands at 1.2Mt copper and 0.8Moz gold, with an ore reserve of 167Mt established which underpins long life, bulk open pit production, over a 10-year mine life, with the first 8 years production averaging 66kt copper and 25koz gold annually.
With Cortadera proving to a be a world class deposit on its own, Hot Chili believes that Productora can be a satellite deposit. It will provide high grade ore to a centrally located plant for the first 3 years which would significantly pay back capital in these years prior to the full-scale production at Cortadera commences.
El Fuego
Hot Chili executed agreements to secure majority interest in two privately producing mines – San Antonio and Valentina, collectively known as El Fuego. Due to its private ownership for the last 50 years, the two projects have very little modern exploration.
El Fuego is located 5km east of Cortadera, where the Company has completed a first-pass 5,000m drilling program across San Antonio and Valentina. The first pass drilling at El Fuego found shallow copper deposit.
9m grading 2.0% copper from 132m down-hole depth,
6m grading 2.1% copper from 65m down-hole depth,
19m grading 2.0% copper from 61m down-hole depth (including 11m grading 2.4% copper),
15m grading 1.7% copper from 80m down-hole depth,
10m grading 1.6% copper from 58m down-hole depth (including 4m grading 2.7% copper),
5m grading 2.5% copper from 31m down-hole depth (including 2m grading 4.3% copper),
El Fuego still requires a lot of exploration but could add significant resources in the future which will contribute to the overall mining hub that Hot Chili is developing.
Mining Hub
Hot Chili intends to create a mining hub that will connect its projects which are all in near proximity of each other –  Cortadera, Productora, and El Fuego. This new mining hub is reported to be called El Fuego Costa. The three projects will be able to share infrastructure with central processing and a combined infrastructure approach.
El Fuego Costa has some serious advantages. The most important is that it is low attitude, near the coast, near existing infrastructure such as the main highway, power stations, and only 50km from a port. This will reduce capital costs significantly when it comes time to build the mine.  
The other advantages are that the projects produce clean concentrate that has no arsenic. The mine will be near major solar projects where it can obtain carbon free energy and close to already existing sea water processing allowing it to use either sea water or desalination for its water use. It is not clear yet which would be utilized in the production process but having access to water is good news since many mines are facing water issues.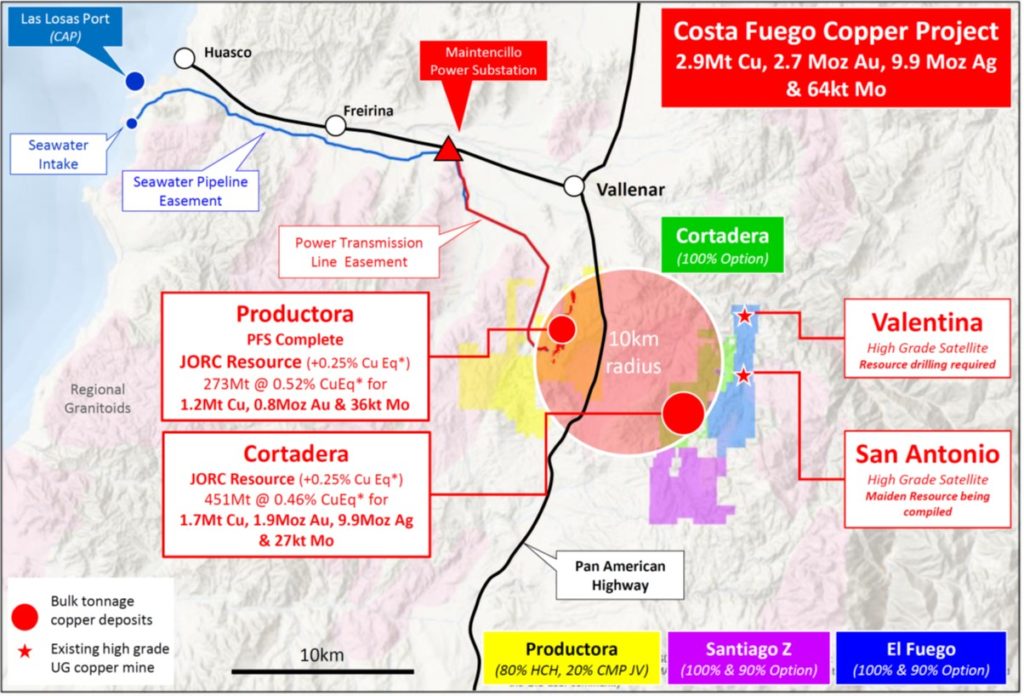 Conclusion
Hot Chili has already started this year a pre-feasibility study for the 3 combined projects. The company will be dual listed on the TSXV later this year and will be updating its maiden resources for Cortadora around the same time.
The total resource for Costa Fuego, including Productora and Cortadera deposits, already contains a healthy – 2.9 million tonnes of copper and 2.7 million ounces of gold. This will increase substantially in the months ahead as the company announces results from its 40,000m drilling program.
In recent times where there have been very few large copper discoveries and where most mines take between 15 and 25 years to come to production, it has been exceptional to see a junior miner like Hot Chili who have been able to bring a very high value project to the point where it is today.
Ax Legal helps foreign companies to enter and operate in the Latin America. Our team of legal and commercial advisors have a distinguished track record of helping foreign technology and services companies at each stage of their growth. Over the years, we have worked with starts up, mid-size businesses, and publicly listed companies. The one common factor that connects are clients is that they are leaders in their field, providing innovative technologies and services to the industrial sectors.
To better understand how we can support you in the Region, please contact Cody Mcfarlane at cmm@ax.legal