Argentina Mining Copper Project Pipeline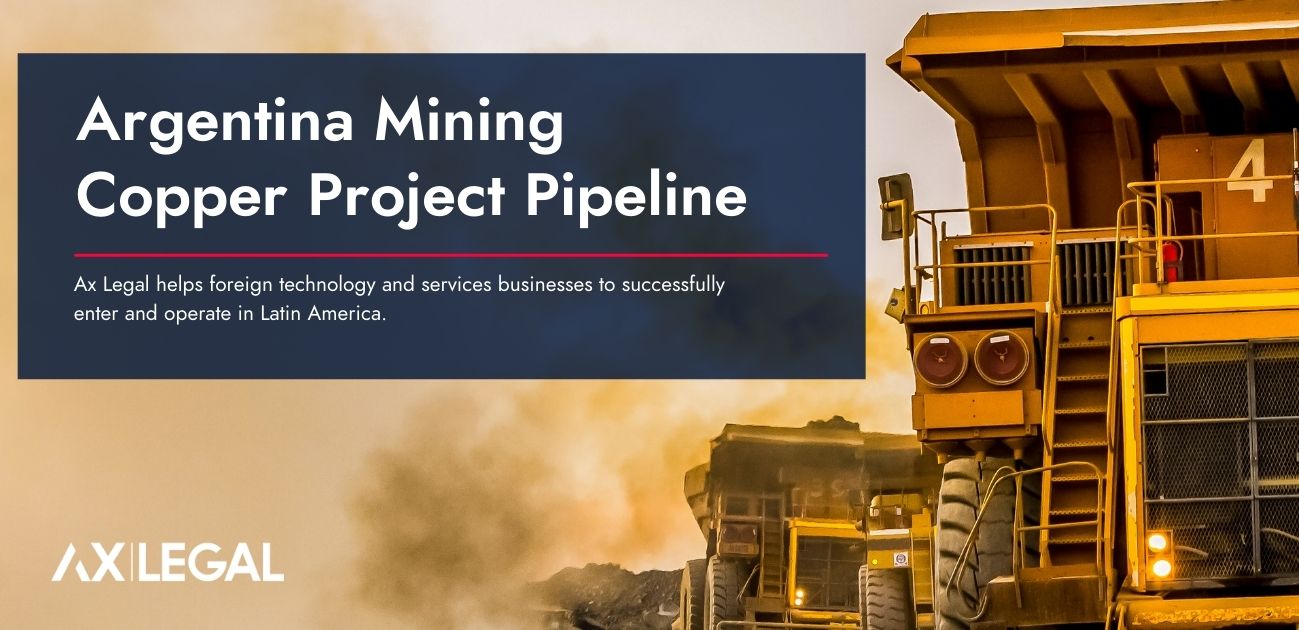 Argentina is seeking to increasing mining exports from the USD$2.6b it had in 2020 to USD$10b in 2030. To do so, the government is making attempts to improve the mining industries competitivity.
In October 2020, the export taxes for mining companies were reduced from 12% to 8% with plans to cut further. Industry groups are calling for the government to further reduce withholding taxes taken from employees' wages, speed up value-added tax (VAT) refunds, and increase access to the foreign exchange market.
The project pipeline is big enough that Argentina very well could have a chance to hit its goal of USD$10b by 2030. The country is already the host to 17 mines that are in production and three in the construction phase. The current mining portfolio comprises of 87 projects, with 34 in an advanced exploration stage, 14 with a preliminary economic assessment underway, five in the prefeasibility stage and 12 in feasibility.
Although the lithium sector has been receiving a lot of attention, there is also a significant copper pipeline that is quite interesting. Below we have provided an overview of the 4 most advanced copper projects. 
Josemaría 
A Lundin Group subsidiary, Josemaría Resources, is set to start construction of its US$3.09bn project this year. The silver-gold-copper project is expected to start operations in 2026. Lundin Mining acquired Josemaria Resources for an equity value of approximately C$625m ($485m) in December 2021. 
The mine will have a life expectancy of 19-years and will produce 131,000t/y copper, 224,000oz/y gold, and  one million ounces of silver.
Josemaría would generate 4,000 new jobs during construction and 1,000 while in production.
The Josemaria copper-gold project is located approximately 10km from the Chilean border and 140km from Copiapo, Chile.
Conventional open-pit mining method, involving drilling and blasting followed by loading and hauling by autonomous trucks, will be employed at the Josemaria copper-gold project.
Mara (formerly Agua Rica) 
The US$2.38bn Mara project (formally Agua Rica) project is controlled by Yamana (56.2%), Glencore (25%) and US miner Newmont (18.75%). Already in the feasibility stage, the project is expected to have the environmental and social evaluation ready in late 2022. MARA is the combined project comprised of the Agua Rica site, Alumbrera site, as well as the Alumbrera plant and ancillary buildings and facilities, and will rely on processing ore from the Agua Rica mine at the Alumbrera plant.
With proven and probable mineral reserves of 11.7 billion pounds of copper and 7.4 million ounces of gold contained in 1.105 billion tonnes of ore with an initial mine life of 28 years.
The project is to produce some 205,000t/y of copper for 28 years, will use Alumbrera's infrastructure which includes a processing plant, tailings facilities, pipelines and auxiliary buildings, among others. 
MARA will be among the top 25 copper producers in the world when in production, and one of the lowest capital intensities of comparable projects globally.
The project will be mined via a conventional high-tonnage truck and shovel open pit operation.
Los Azules
The US$2.3bn advanced exploration project is located approximately 80 km west northwest of the Calingasta town and 6 km east of Argentina's border with Chile, at 3,500 m elevation in the Andes Mountains. Los Azules is one of the world's largest undeveloped high grade open pit copper projects that contains significant further growth potential. It is anticipated to be the world's 25th largest copper producer and a lowest cost quartile producer.
Initial capex requirement of $2.4 billion with payback occurring after 3.6 years.
The mine has a life of 36 years and will produce 415 million lb. of copper annually for the first 13 years at a cash cost of $1.14 per lb.
The company is constructing a new, low-altitude northern access road to provide year-round access to the site. The current exploration road is only passable about five months a year.
The goal is to move the project to the pre-feasibility stage over the next year and a half.
Taca Taca 
The US$3.27bn Taca Taca is an open-pit copper, molybdenum and gold mining project owned by First Quantum. The project is located in Argentina, approximately 230km west of the provincial capital city of Salta and approximately 55km east of the Chilean border. First Quantum is expected to have an investment deicison in 2023 or 2024.The total investment on the project is estimated to be $2.63bn .
Taca Taca is set to produce 224,000t/y copper, 106,880oz/y gold and 2,914t/y molybdenum over 32 years. 
The mine construction would generate around 1,300 new jobs. 
The project will utilise the conventional open-pit method involving drill, blast, shovels and trucks operations. The near-surface material is expected to be mined through free-digging method, while the drill and blast methods will be employed as the mining depth increases.
There are plans to use, where applicable, trolley assisted trucks for ore and waste haulage. Haulage cycle times can be significantly reduced for trucks receiving direct electric power to their wheel motors. 
Conclusion 
The Argentian mining industry has never been able to grow likes its neighboring countries Chile and Peru even though there have been some world class projects on the books. In fact, many of the projects mentioned above have been around for many years but essentially have been in a hold pattern. The country is taking steps to improve the industries competitivity. It might be the perfect timing with the demand for new copper to increase in the coming years. 
Barrick Gold and its partner Shandong Gold announced investments to extend the life of Argentina's largest gold mine, Veladero, to 2030. The Lindero mine, operated by Fortuna Silver Mines, started operating this year. It became the first open pit mine in Salta province.
It will not be without challenges. Argentina has a serious reputational problem in the global markets due to government policies. There is also a large portion of the population that are worried about the environmental aspects of the mining industry which could create social conflict. The key for the government is to reassure international investors of its stability while also demonstrating to the local communities that development can be done in an environmental way that will have a positive impact on the communities through new jobs and investments. 
Ax Legal is an advisory firm that works with foreign companies in Latin America. Our team of legal and commercial advisors have a distinguished track record of helping foreign technology and services companies to grow and operate in Latin America. Over the years, we have worked with starts up, mid-size businesses, and publicly listed companies. The one common factor that connects are clients is that they are leaders in their field, providing innovative technologies and services to the industrial sectors.
To better understand how we can support you in the Region, please contact Cody Mcfarlane at cmm@ax.legal