Codelco – Insights into the Copper Giant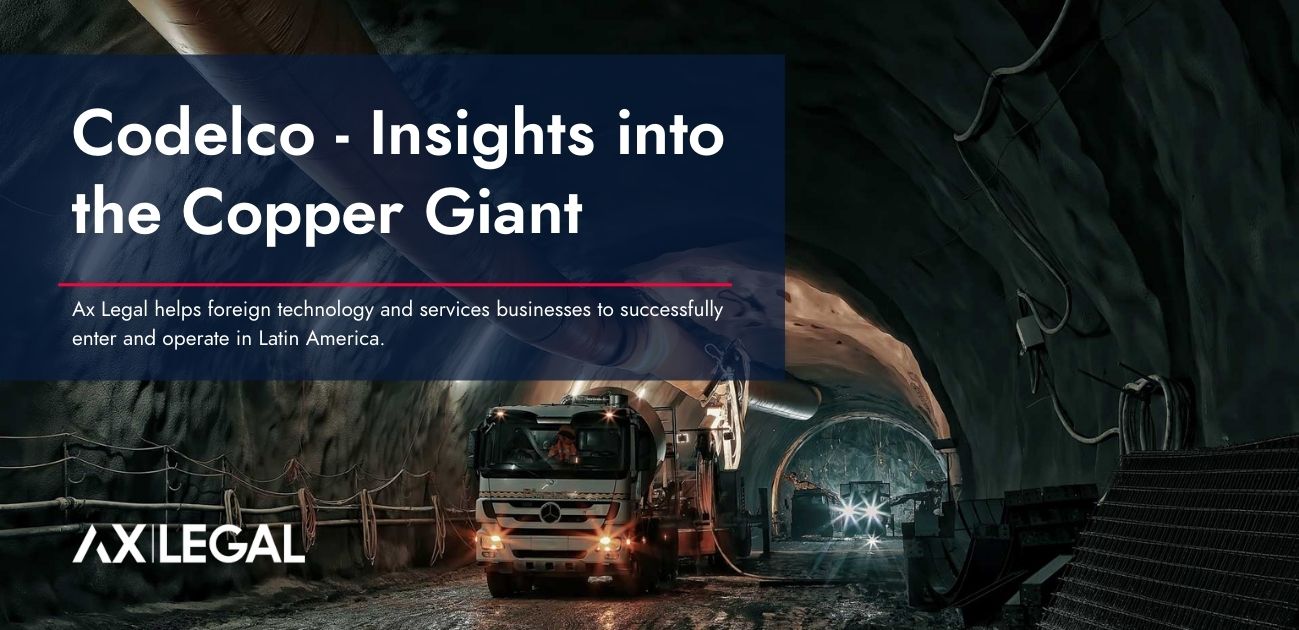 As the world's largest copper producer and a state company that contributes significant taxes and employment in Chile, Codelco plays an important role both locally and in the global copper market.
Due to its size and importance to the copper industry, it is important for service providers to keep tabs on what the company is doing to better understand opportunties that may exist and where their offerings can be tailored to help Codelco reach its goals.
In a recent discussion with parliamentarians, newly appointed Board Chairman Maximo Pacheco provided some insight into the areas Codelco is focusing on. 
Codelco must be a company without fatal accidents.
The new Chairman stated – "We must ensure that everyone arrives at their homes safely,"
Our Thoughts – Codelco should have a renewed focus on improving health and safety throughout its operations. Ideally, this is supported by increasing budgets to implement new solutions. This will bring opportunities to suppliers who can exemplify their safety records, introduce solutions that remove workers from potential risky situations, and incorporate new products that are directly related to improving the safety of workers on site.  
Codelco must be a leader in environmental protection.
The New Chairman – "In order to fulfill this aspiration, plans to close the huge gap in the use of renewable energies and reduce water consumption will be decisive."
Our Thoughts – The global mining industry has placed huge amounts of importance on ESG these last few years. Codelco is no different and it wants to be a global leader in sustainable mining. The natural conditions in Chile have allowed local miners to accelerate those plans due to current conditions (lack of water) while also benefiting from the abundance of renewables. 
Here are some of the more recent developments that Codelco has been working on.
All mining companies in Chile are facing risks related to the lack of water in their operations. The newly appointed chairman expects to announce in 2022 the approval for a new desalination plant to be built in Calama.
The company will be actively looking for ways to reuse waters from its operations, particularly from its tailings.
The company has been very outspoken about its goal to reduce its carbon footprint by fully electrolyzing its underground operations and will actively participate in the development of green hydrogen in mining.
Codelco will seek sustainable copper certification by 2023 which will require each mine to meet 32 sustainability criteria related to issues such as greenhouse gas emissions, health and safety, tailing management, biodiversity, etc.
Codelco is developing a free-to-use platform for suppliers to calculate their greenhouse gas emissions. The goal is to help miners favour those suppliers that have the lowest footprint and emissions. The new tool is expected to be operational by late 2022.
Codelco must improving its balance sheet
The New Chairman – "the necessary mechanisms will be sought to strengthen the financial balance sheet and make it compatible with a healthy and sustainable mining company. We have a US$18 billion debt and investment commitments for structural projects. It is an enormous responsibility to find a solution, because the expansion of the company has been done at the expense of depreciation and additional debt."
Our Thoughts – Codelco has committed to structural projects that will maintain its 1.7m tons of production but to grow revenues in a meaningful way it will need to increase its production. To do so, the company will need to look at alternative ways to develop new mines which includes looking at partnerships for its exploration properties.
Last week, Codelco announced it was beginning the process to carry out exploration partnerships with interested parties. There are 34 projects, which have at least basic exploration, mainly copper and gold. The selected portfolio is composed of projects that cover approximately 255,000 hectares granted to Codelco, and that are in an early state of exploration with varying degrees of progress: eight of the projects have drilling information; 22, with geophysical information and 33, with geochemical information.
For more information on these properties, you can view here.
Codelco must maintain current production of 1.7 million tons of fine copper.
The New Chairman – "We are replacing deposits, because in a few years, approximately 75% of our production will depend on these construction sites, which cost between three billion and five billion dollars." This effort must be made competitively, that is, placing the company in the second largest cost quartile in the global copper industry. "Our commitment, therefore, is to build these five structural projects on time and on budget," he said.
Our Thoughts – Codelco has a significant number of projects that are already under construction. The main mining projects in Codelco's portfolio are the following: 
Chuquicamata Underground: The project involves transforming the famous open-pit mine to an underground operation. The transformation requires a total investment of US$5.10bn and has a projected mine life of 40+ years. The project has reached total progress of 98.4% as of February.
Andina Transfer Project:  The project required an investment of US1.41bn and is projected to last 30+ years. It involved building a new primary crushing station and a new transportation system. It is due to be completed this year. 
Andina Future Development: The project required a total investment of US$3.29bn to expand to 150,000t/d of ore and it is projected to be completed by 2026.                                 
El Teniente New Mine Level: The project required an investment of US$5.19bn with a projected mine life of 50+ years. It involves creating a deeper mine level, and is expected to be completed in 2023.                                         
Inca Open Pit: The project required an investment of US$1.34bn and has a projected mine life of 40+ years. It involves optimizing the operation from underground to an open pit mine and is expected to be finished this year.
Ax Legal is an advisory firm that works with foreign companies in Latin America. Our team of legal and commercial advisors have a distinguished track record of helping foreign technology and services companies to grow and operate in Latin America. Over the years, we have worked with starts up, mid-size businesses, and publicly listed companies. The one common factor that connects are clients is that they are leaders in their field, providing innovative technologies and services to the industrial sectors.
To better understand how we can support you in the Region, please contact Cody Mcfarlane at cmm@ax.legal