Codelco's USD$1.4b Inca Pit Project Overview
Codelco, the world's largest copper producer, has broken ground at the $1.4 billion expansion of the Salvador copper mine, which will extend the productive life of the aging operation by 47 years and increase output by almost 50%.
The project is quite important to Codelco's portfolio since the mine was expected to run out of ore this year. With the expansion, the mine will have access to another 796 million tonnes of mineral, with an estimated 0.59% copper grade on average. 40% higher than current grades.
History
The Salvador project has been in operation since 1959.
The Salvador complex includes the Inca underground mine and open pit mines Campamento Antiguo and Quebrada M. The unit also includes the Potrerillos smelter.
Current production depends on three underground mines.
The Salvador Division currently has the lowest productivity of any of Codelco's deposits, generating just 50,600 tonnes, just under 3% of Codelco's total output, last year. 
Inca Pit Project Overview
The Inca Pit Project extends the useful life of the El Salvador Division by developing an open pit in the mineralized body that has historically been mined underground. It is estimated that approximately 561 million tons (Mton) of sulphide ore and approximately 297 Mton of oxidized ore could be extracted and processed.
The mine will process these minerals in existing facilities and incorporating modifications to them to optimize and increase the processing rate and production of fine copper.
Salvador will go from the current 60 thousand tons of fine copper to a production of 90 thousand tons per year, which implies 50% more production. Full production at Rajo Inca will commence H1 2023.
The mining complex will produce cathodes and concentrates that can be sent to the Port of Barquitos or to the Potrerillos smelter. 
Rajo Inca also involves optimizing the concentrator plant and copper oxide facilities and a larger tailings dam.
This project, which involves an investment of US$1.4 billion and will create 2,400 jobs in the peak construction period.
The expansion will extend the useful life of Salvador, which began operations in 1959, until 2070
BELAZ to supply 18 mining trucks with a payload capacity of between 240 metric tons and 290 tons. The technical characteristics of the trucks are specially adapted to work in high altitude conditions.
H-E Parts was recently been awarded a multi-year, major equipment overhaul contract with Codelco. The contract was awarded to H-E Parts for the rebuild of 23 Komatsu 930E haul trucks, and will be conducted through Rajo Inca, Codelco's Salvador Division. 
Codelco commitments from the beginning of the Rajo Inca work are that during the implementation process a series of voluntary measures will be taken, such as the hiring of local labour for the construction and operation phases, the hiring of labour with equal gender approach, support for local entrepreneurship and technical-professional practices for secondary students from neighboring communities.
Conclusion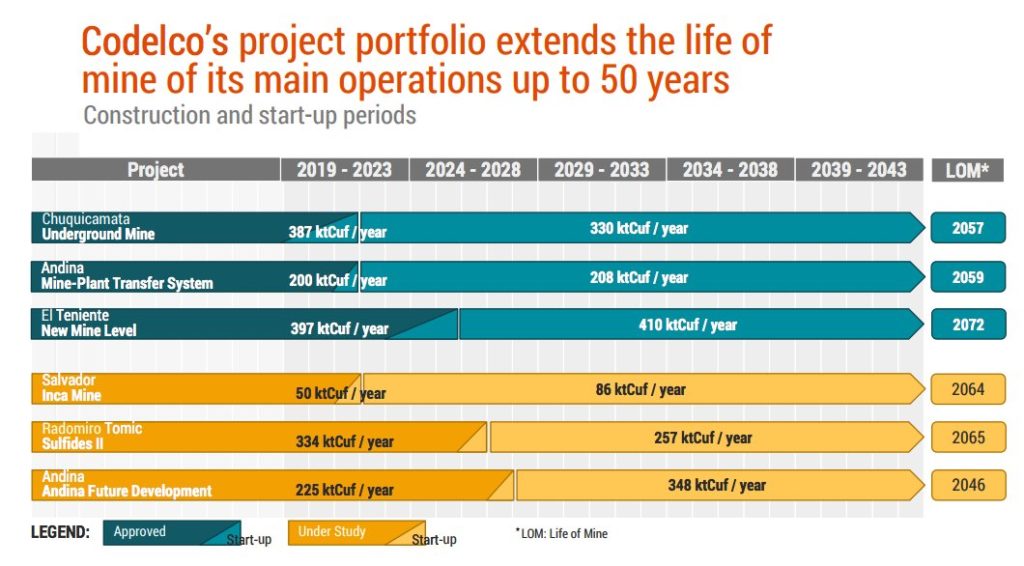 Codelco has six major projects that it is advancing as part of its 10-year, $40 billion initiative to upgrade its mines and maintain production levels.
A new underground operation at the company's Chuquicamata division entered production in 2019, while a new mine level at the underground El Teniente mine will follow in 2023. The company operates seven mines and four smelters, all in Chile.
Most importantly, the Rajo Inca expansion is important to the local communities where the mine will provide stable employment to local residents until at least 2070.
Ax Legal helps foreign companies to enter and operate in the Latin America. Our team of legal and commercial advisors have a distinguished track record of helping foreign technology and services companies at each stage of their growth. Over the years, we have worked with starts up, mid-size businesses, and publicly listed companies. The one common factor that connects are clients is that they are leaders in their field, providing innovative technologies and services to the industrial sectors.
To better understand how we can support you in the Region, please contact Cody Mcfarlane at cmm@ax.legal