Mexico Mining – Construction Project Pipeline for 2022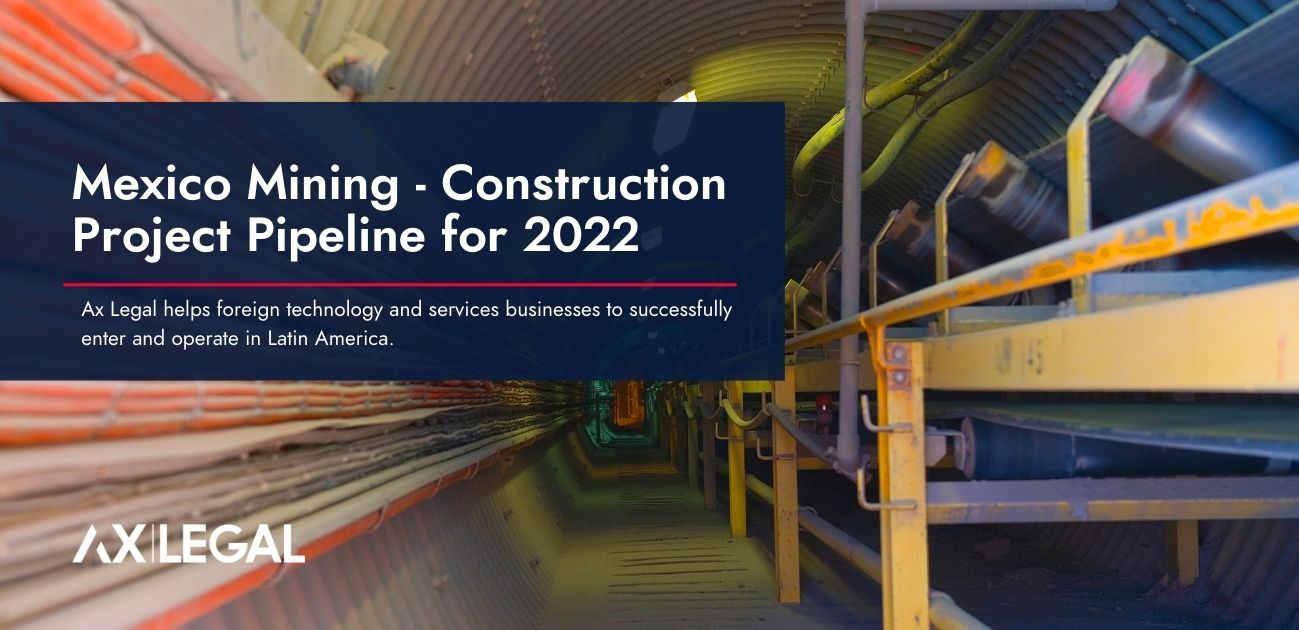 Mexico is one of the most important mining jurisdictions in the world. In addition to being the top producer of silver globally, Mexico is global leader for 17 minerals, including the second in fluorite, third in celestite and wollastonite, sixth in zinc, seventh in salt, eighth in copper and ninth in gold.
The project portfolio continues to advance in 2022. This year the construction pipeline for new projects has grown to 11 new projects whose capital expenditure total US$2.71 billion, according to the BNamericas Project Profiles base. This is up from the US$1.5b that was announced at the start of the year.
Below we have provided some information on the construction portfolio with some add comments on the projects.
Media Luna Project by Torex Gold Resources
Media Luna received an investment decision in March 2022 and is already under construction.
The initiative contemplates an underground mine with a processing capacity of 7,500t/d. The new underground satellite operation will allow Torex to maintain a production close to 450,000oz/a of equivalent gold until 2027.
To access existing infrastructure, a tunnel will be built under the Balsas River where a conveyor belt will be installed that will carry the ore from the Media Luna deposit to the processing plant in El Limón-Guajes covering a line distance of seven kilometers.
On the south side of the Balsas River, a pasta plant will be built to complement the underground mining system, a flotation circuit on the north side of the river, where the processing plant is located, in addition to a water treatment plant.
The company has said that 20% of revenue from the Morelos Complex is forecast to be attributable to copper, with the percentage increasing as the ML Project ramps up.
The company is also working with Mexican authorities to obtain a final environmental permit, which is expected for this year.
Juaniciple by Fresnillo and MAG Silver
Fresnillo (56%) is a joint venture with MAG Silver.
Juanicipio will produce 11.7 million ounces of silver and 43,500oz/a of gold are projected annually once in operation. Initial mine life is 12 years.
Construction is completed but the commissioning was delayed due to issues with the connection of the project to the electricity grid. They expect this to be completed by mid 2022.
The mine is accessed through twin underground declines. The original access decline was twinned to provide capacity for hauling additional ore and waste to enable a processing capacity of 4,000tpd.
The project employs long-hole stoping as the primary mining method, with waste rock backfill at a production rate of 4,000tpd. 
The ore from the vein will be crushed underground and conveyed from the underground crushing station to the process plant area via the underground conveyor ramp.
Buenavista Zinc by Southern Copper
The Buenavista open-pit copper mine in Sonora, Mexico is one of the biggest porphyry copper deposits in the world. Producing since 1899, it is the oldest operating copper mine in North America. Buenavista Zinc is a satelite pit.
The Buenavista zinc project is expected to produce 100,000 tonnes (t) of zinc a year and increase the annual copper production capacity of the mine by 20,000t.
The deposit is estimated to contain approximately 102.6Mt of ore grading 1.88% zinc, 0.47% copper and 17g/t silver.
Buenavista del Zinc has an interesting challenge: separating the copper and zinc which also includes lots of clay.
Buenavista del Zinc will be the first Grupo México operation that will use a SAG mill. This will allow the operations to reduce particle size, taking advantage of the larger rocks in the mineral. The technology involves a steel breakage medium to remove the critical size fraction inside the mill and achieve an optimal particle size. The greatest advantage is that SAG mills are not affected by the clay.
Expansion of Los Filos by Equinox Gold
Los Filos gold property includes two high-grade underground mines namely Los Filos and Bermejal and three relatively lower-grade open-pit mines namely Los Filos, Bermejal, and Guadalupe.
The Los Filos expansion plan includes the development of Bermejal underground mine, enlargement of the operating Los Filos open-pit mine, re-phasing of the Bermejal open-pit mine into two distinct open-pits namely Bermejal and Guadalupe
Proven and Probable mineral reserves of 104.2 Mt at 1.31 g/t containing 4.5 Moz. Gold production of 3.2 million ounces (Moz) over a 10-year mine life.
Open-pit mining is carried out with conventional drill-blast-load-haul operations, whereas the underground mining involves the underhand drift and fill technique using cemented rock fill (CRF) as backfill.
The run-of-mine (ROM) ore is sent to the nearby processing plant, where it undergoes two-stage crushing and is conveyed to the heap leach pads for gold recovery through adsorption-desorption-recovery (ADR) process.
The decision on the carbon leaching plant (CIL) is delayed for now after community blockades in 2021. The CIL plant will raise the production of Los Filos to 300,000-350,000oz/a, compared to the 160,000-180,000,000oz and will cost between US$230 million and US$250 million
Terronera by Endeavour Silver
Terronera is a major underground silver and gold mine proposed for the Jalisco state of Mexico.
The prefeasibility suggests a 1,600 tonnes per day (tpd) underground mining operation capable of producing up to three million ounces (Moz) of silver and 32,800 ounces (oz) of gold a year over an estimated mine life of 10 years.
The Terronera project is estimated to hold 5.56 million tonnes (Mt) of probable ore reserves grading 205g/t silver and 2.29g/t gold and containing a total of 36Moz of silver and 410koz of gold
Terronera will be an underground mining operation involving cut and fill, as well as long hole stoping method.
The project will utilise trackless underground equipment including scoop trams, haulage trucks, and electric-hydraulic drill jumbos. 
The run of the mine (ROM) ore will be trucked to a nearby processing plant where it will be crushed, and then fed into a flotation circuit for the recovery of silver and gold through flash floatation. The obtained concentrate will undergo cleaning, thickening, and filtering before being packaged for transport.
Pilares Mine by Southern Copper
Pilares includes an open pit mine operation with an annual production capacity of 35,000 tons of copper concentrates.
The ore will be transported from the pit to the primary crushers of the copper concentrator of La Caridad through a new 25-meter wide road for off-road trucks, and will significantly improve the overall grade of the mineral (combining the expected grade in Pillars of 0.78% with the law of 0.34% of La Caridad).
Southern Copper is in the run-up to the first production of its project, which would contribute to increasing the company's copper exploitation from next year.
A path has already been built for trucks to transport the ore from the pit to the primary crushers of the La Caridad copper concentrator.
Pyrite Plant by Fresnillo
The Pyrites plant is expected to improve overall recoveries of gold and silver, and therefore maximise production in the Fresnillo district; expected to total an average of 3.5 moz silver and 13 koz gold per year once both phases are operating at full capacity.
This project was divided into two phases, the first phase consisted of the iron flotation circuit and pyrites leaching plant at the Saucito mine, which was commissioned mid-2018. The second phase, a 14,000 tpd tailings flotation plant at the Fresnillo mine, is under construction.
The second phase, a flotation circuit, will treat the ongoing and historical tailings from the Fresnillo mine to produce a pyrites concentrate which will be sent to a filtration plant and then on to the leaching plant at Saucito, the final part of the process to produce the precipitates. 
Fresnillo has also faced delays in the completion of the second and last stage of its pyrite plant because the connection to the electricity grid has taken longer than expected. This connection is anticipated for mid-year 2022.
Las Chispas by SilverCrest Metals
Las Chispas mine is an underground silver and gold mining development in Sonora, Mexico that will average 5.2Maz of silver and 56,000oz/a of gold.
The project has an estimated life of mine of 8.5 years. Las Chispas is one of the highest-grade primary silver mining projects in the world. 
Las Chispas mine will use long-hole stoping and cut-and-fill mining methods via several access drifts and ramps.
Mining fleet will include 1.2t, 3t, 3.5t and 10t load–haul–dump (LHD) vehicles. A 30t diesel truck fleet will transfer ore to a surface transfer pad. 
SilverCrest Metals managed to start exploitation in Las Chispas on June 30. The first batch consisted of 312kg of gold with about 9,200oz of silver and 100oz of gold.
La Yaqui Grande by Alamos Gold Inc
The La Yaqui Grande gold mine, located 7km from its existing operation in the Mulatos District, will have a mine life of five years up until 2027, is expected to deliver average annual gold production of 123,000 ounces per year.
The mine has mineral reserves of 19.2 million tonnes (Mt), containing 724,000 ounces of gold and 9.8 million ounces of silver. It hosts 1.3Mt of measured and indicated mineral resources, with 43,000 ounces of gold and 340,000 ounces of silver.
La Yaqui Grande will be developed with an independent heap leach pad and crushing circuit. Ore will be crushed through a three-stage crushing circuit, agglomerated, stacked, and leached on an independent leach pad. The resulting gold bearing solution will be processed through carbon columns following which the loaded carbon will be transported to the existing Mulatos plant for final processing.
"The Yaqui Grande represents one of a long list of discoveries that have continued to extend the useful life of the Mulatto complex since it began production in 2005," CEO John McCluskey said in a statement.
The company says production from La Yaqui Grande will replace higher-cost production from the main Mulatos pit, keeping the sites' combined production at about 150,000 ounces per year. With mine-site all-in sustaining costs will be reduced from $960 to about  $578 per ounce.
La Yaqui Grande was completed ahead of schedule generating more than 1,000 jobs during the construction phase and will continue to sustain 450 direct job
Tahuehueto by Altaley Mining
Production will average 26,000oz/a of gold or 46,000oz/a of equivalent gold during the 10.9 years of useful life of the mine.
Proven & Probable Reserves of 3.58 million tonnes grading 2.55g/t gold, 50.06 g/t silver, 1.92% zinc, 1.11% lead, 0.26% copper.
Altaley Mining began the commissioning prior to the production of Tahuehueto with a 500t/d capacity ball mill, while a second ball mill will be installed this semester.
Santana Los Verdes by Minera Alamos
Santana was constructed as a low capex (~US$10 million) open pit heap-leach mine currently ramping up to a commercial production decision in 2022.
Plans call for Santana output to be approximately 50,000 oz. gold equivalent annually.
Minera Alamos reached the last important milestone with the productive scaling of its project at the end of May, when the development of the main Niche area began.
"The development of the second pit, which is larger, will provide access to the main source of known mineralization of the project, which will complement the current operations of the initial pit and allow the company to finally leave the pre-commercial production phase of the project," explained CEO Darren Koningen.
Ax Legal is an advisory firm that works with foreign companies in Latin America. Our team of legal and commercial advisors have a distinguished track record of helping foreign technology and services companies to grow and operate in Latin America. Over the years, we have worked with starts up, mid-size businesses, and publicly listed companies. The one common factor that connects are clients is that they are leaders in their field, providing innovative technologies and services to the industrial sectors.
To better understand how we can support you in the Region, please contact Cody Mcfarlane at cmm@ax.legal