Social Strategist Interview – Practical Tips for Exploration Companies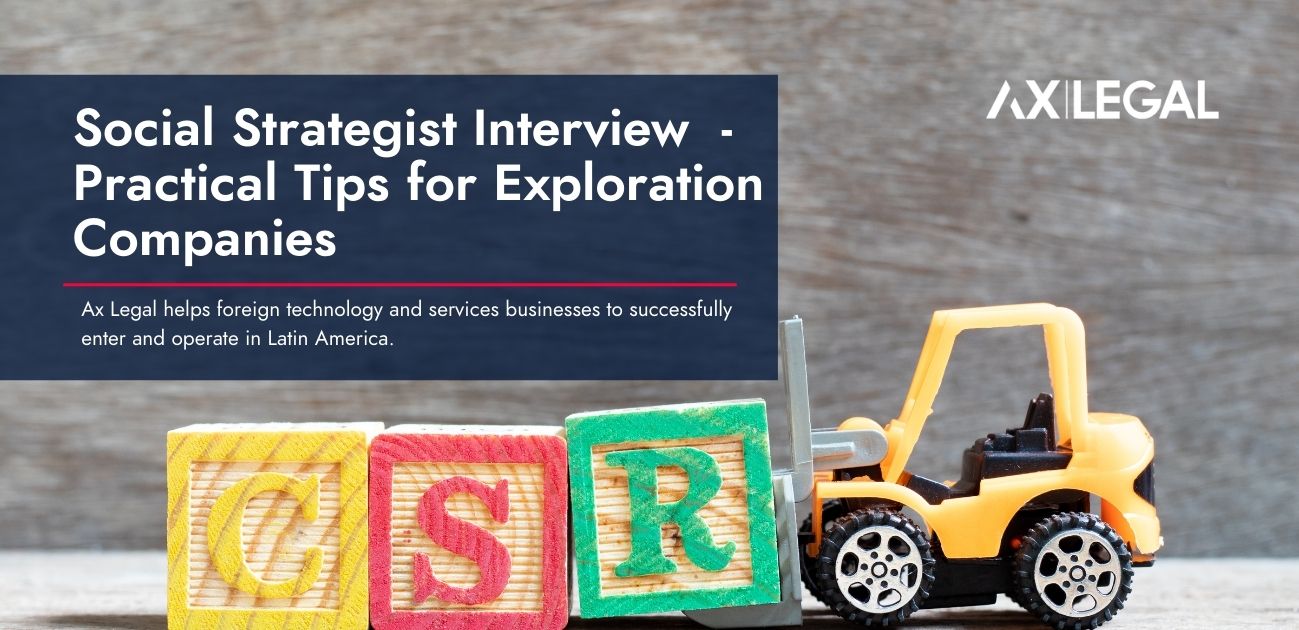 We interviewed Andres Recalde, a Senior Social Strategist that has spent the last 25 years working with mining companies in various parts of Latin America. Andres brings a tremendous amount of experience helping companies to scale and apply strategies to local environments and different cultures to obtain social license to operate. In our interview, Andres provides his personal insight into what is happening in Peru, his idea about social acceptability rather than social license, and practical tips that exploration companies should consider when engaging with communities. 
Ax Legal: Can you tell us about your experience working with sustainable development processes and corporate social responsibility in Latin America?
Andres Recalde: I started working as management consultant for a large accounting firm. Then I transferred to work as Finance Director for oil and gas companies and with the same role in bilateral funded social development programs.
After completing a graduate program in development economics, I started to work as Regional Director for a large global social development organization in 1996. It is in this position that I started to have contact with the mining sector and the new area of corporate social responsibility (CSR).
CSR has alot of  "baggage" around charity thinking when it was first introduced to mining. This had to change, and it changed quickly. CSR evolved into a social risk prevention activity with political implications. Mining companies started projects in areas where communities were entitled to the superficial land but living in poverty and neglected by the state's income distribution from mining royalties. This pointed to the project proponent as a forced partner in development initiatives. This was not a natural competency for a mining company. Therefore, they needed to adapt quickly keeping an eye on the costs and commitments associated with it. This gave rise to the metaphor of Social License to Operate [1].
Ax Legal: Could you provide some of your personal insight into what is happening in Peru and how it could be solved?
Andres Recalde: Peru's social unrest around some large mining projects is the outcome of a combination of evolving aspects. I will not say how it could be solved but instead how to manage it.
For the specific case of Las Bambas, the evolving factors I see that created the conflict situation are:
Xtratas made exorbitant offers for the resettlement and land compensation of affected communities. This was inherited by Glencore and then by MMG. I interviewed the community relations manager of Xstrata at the time. He commented that Xstrata implemented the most generous compensation following CSR international guidelines and seeking a sustainable social license to operate.
When MMG took ownership of the project, they found the cost of this compensation too high and tried to reduce any future social related cost. They applied this policy by avoiding to pay the "right of way" through local roads for the trucks transporting ore to port. The communities based on these roads submitted their grievances but were ignored since the government (under MMG's lobbying) declared the road for public use. This created a constant conflict that MMG avoided to discuss.
Then the election of a leftist government in Peru motivated the resettled communities to demand an update for the value of the land sold to Xstrata. This was an impossible proposition considering the cost to Las Bambas' operation.
Ax Legal: Could you provide some tips or suggestions on how exploration companies should approach social responsibility in Latin America? Peru?
Andres Recalde:
Never underestimate the importance of a good team of experienced community relations personnel. Even if it is just a small team. 
Most cases of conflict arises when there is no transparency in the scope and impacts of an exploration project even if it is over a short period of time.
In some areas where this ancestral mining traditions, it is not a matter of communication but of compensation for land and other disturbances. If the company tries to ignore or minimize those disturbances for cost savings, then they are opening the door for rejection and then possible future conflicts.
In some cases, it will not make sense to seek a full social engagement since it would take too long and be too expensive. But the minimum aspects of engagement for information and short-term non-skilled opportunities are always welcomed by the communities.
If the exploration might need more than one campaign, it would be wise not to abandon the area completely without communicating. A presence by the project CR personnel even from time to time would keep expectations and goodwill with the community.
If the project enters advance exploration, then it is necessary to plan and discuss a local adapted version of an Impact Benefit Agreement [2].
Ax Legal: What are the typical mistakes you see companies making when working with communities?
The most common mistake is to underestimate that the communties expectations could be ignored or solved with some charity attitude.
The project presence raises a lot of expectations especially among excluded and impoverished communities. We always need to be aware of this.
Any opportunity for even a short term income generating activity is of extreme significance to some communities.
After the pandemic, many young people have returned to their local communities where there are no job opportunities but at least they have their bare necessities covered. These young people have created more need for local jobs and opportunties. 
Ax Legal: Why do you prefer to say social acceptability rather than social license?
Andres Recalde: As mentioned above, "Social License" to operate is a metaphor that tries to describe an attitude in the relationship between the project and its local stakeholders. It was born as a political risk measure. It is not a goal but a state in the relationship for a period of time.
My preference for using "social acceptability" is because of the political cloud that comes with using "license". In rural areas where there is low social development, it is common to see also low governance structures. The state's governance (municipalities, etc.) have low budgets to commit to social development. In this context, people translate "license approval" to payments and contributions. Since there is low culture of decision making as a community, the issuance of a "license" starts a political strife among community's groups. In the end, this delays the community from reaching an agreement.
It is more manageable if the project seeks "social acceptability". The field work activities would be the same, but you avoid entering into a local political struggle to issue a "social license".
In legal terms, social acceptability is considered part of a soft law code. It is not a regulation, but it is a binding decision by the community.
Ax Legal: How has this area changed over the years and are there new ways of doing things that should be incorporated?
Andres Recalde: There is innovation in social performance methodologies for the mining sector. One example is to see social performance as a corporate competency at the same level of finance, human resources, or technical management. This is something new that it has already visible in large or medium producing companies but not too much with exploration companies [3].
Social performance gives more meaning and value to an exploration project that wants to proof the incorporation of an ESG policy into their operations.
Ax Legal is an advisory firm that works with foreign companies in Latin America. Our team of legal and commercial advisors have a distinguished track record of helping foreign technology and services companies to grow and operate in Latin America. Over the years, we have worked with starts up, mid-size businesses, and publicly listed companies. The one common factor that connects are clients is that they are leaders in their field, providing innovative technologies and services to the industrial sectors.
To better understand how we can support you in the Region, please contact Cody Mcfarlane at cmm@ax.legal
[1] https://www.torontomu.ca/csrinstitute/events/2020/12/evolution-of-social-license-to-operate/
[2] https://www.facebook.com/notes/679134856069196/
[3] https://smi.uq.edu.au/article/2017/08/social-performance-%E2%80%93-new-professional-discipline