Brazil Mining Project Pipeline – Investment set to grow between 2023-27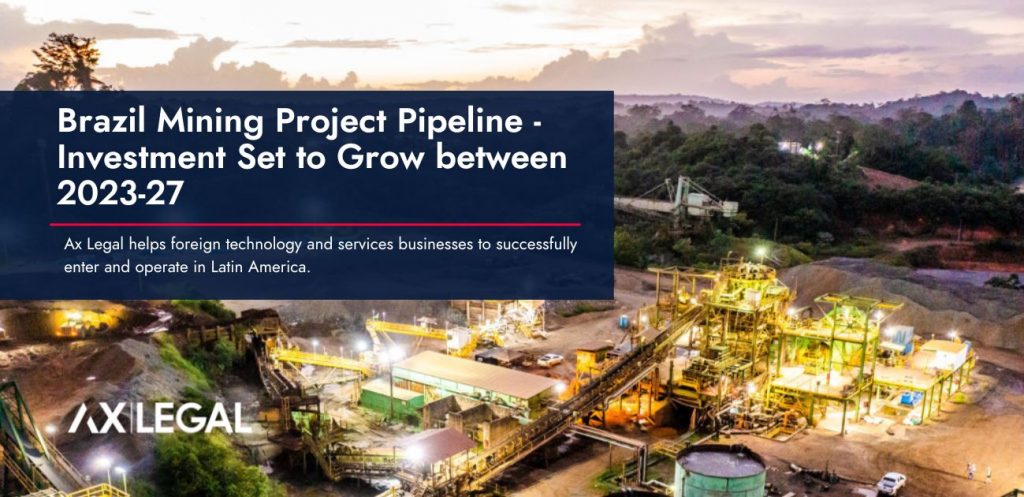 Brazil is an important mining market. The country is one of the five largest mineral producers in the world and the mining sector makes up a large portion of its GDP.  Although the country is known for its iron ore reserves, it also has production in copper, gold, nickel, niobium, manganese, bauxite, and tin.
The sector is expected to grow over the next few years. The country's mining association Ibram released a report that provides an overview of 2022 and their growth projections up to 2027. For the Portuguese report – see here.
For mining suppliers, there is opportunity to provide Brazilian mining operations with technology related to monitoring tailing dams, minimizing or eliminating tailing dams, digitizing operations through predictive analytics, autonomous solutions, and environmental monitoring.
 Highlights from Ibram Report –
The combined capex of Brazil's mining firms is set to reach US$50bn in 2023-27, an increase from last year when the industry projected US$40.4bn in 2022-26 period. This the highest amount of investment since the 2014-18 period when investment reached US$53b.
 Iron ore is the main mining product but there is a notable increase in copper and nickel projects.  
 Iron ore is expected to receive investments of US$16.9bn through 2027, up 24% from US$13.6bn in 2022-26.
Investment in copper is expected to triple with investments worth US$4.47bn. Nickel investment will increase 60% increase to US$2.38bn.
Investment in fertilizers will be US$5.22bn, US$4.96bn in bauxite, and US$2.8bn for gold.
According to the report, 82% of investment will go to three states, with Pará receiving US$13.9bn, Minas Gerais US$11.4bn and Bahia with US$10.2bn.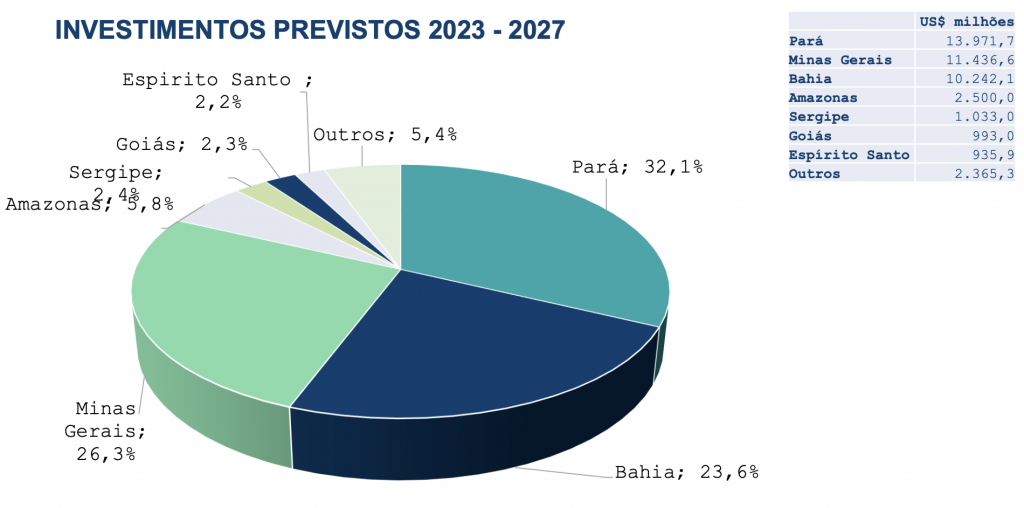 Brazil Project Pipeline Highlights
Aripuana – Nexa Resources

Aripuana is a zinc-lead-silver-gold mine being developed in Serra do Expedito region of Brazil. Termed as one of the world's biggest undeveloped zinc projects.
The project is expected to produce an average of 120,000 tonnes per annum (tpa) of zinc-equivalent over its mine life of 13 years.
The annual production is estimated to contain an average of 66,700t of zinc, 23,000t of lead, and 3,700t of copper, respectively. It is also expected to produce 1.87Moz of silver and 13,000oz of gold a year.
With an estimated capital expenditure of $392m, it is expected to create approximately 1,600 construction and 750 operational jobs.
Construction has now finished, and the company announced it was ramping up in production as of July 2022.

Araguaia – Horizonte Minerals

Horizonte Minerals has started construction on its Araguaia nickel project.
After an initial ramp-up period, the plant will reach a full capacity of approximately 900,000 tonnes of dry ore feed per year to produce 52,000 tonnes of ferronickel, in turn containing 14,500 tonnes of nickel per year.
Estimated to cost $443m, the project has a 24-month construction timeframe.
The first phase of the project is expected to produce 14,500 tonnes per annum (tpa) of nickel with an initial 28-year mine life
Following the second phase expansion, the project's production is expected to double to 29,000tpa of nickel.

Grota do Cirilo –  Lithium Resources

Grota do Cirilo, is claimed to be the largest lithium hard rock deposit in the Americas.
Sigma has been producing environmentally sustainable battery-grade lithium concentrate on a pilot scale since 2018
A large-scale commercial operation has started construction with a capacity for 220,000 tonnes (33,000 tonnes LCE) annually in Phase I, rising to 440,000 tonnes (65,000 tonnes LCE) in Phase II.
Sigma is on track to begin lithium production in the fourth quarter of 2022.
A preliminary economic assessment for the second deposit, released in June of June of this, doubles production capacityof battery-grade lithium concentrate to around 440,000 tonnes per year (66,000 tonnes LCE). 
Such capacity, which could be reached before the end of 2023, would make Grota do Cirilo fall just outside the world's top five lithium producers in terms of output capacity after Albemarle, SQM, Ganfeng, Pilbara Minerals and Galaxy. 
The proposed mine would be powered by a hydroelectric project located 50km away from the site 

Volta Grande – Belo Sun Mining

Located in Pará, the Volta Grande project is an open pit mine that has proven and probable reserves of 115.9 million tonnes grading 1.02 grams gold per tonne for 3.8 million oz. gold.  
Based on a 2015 feasibility study, the project is expected to produce about 205,000 oz. gold annually over the first 17 years of the mine life.
The initial capital cost has been pegged at $298 million.  
Earlier this year, the court ordered the suspension of the project's construction and environmental licenses, but this was recently overturned by the supreme court.

Mara Rosa – Amerillo Gold/ Hochschild Mining

Hochschild Mining purchased Amarillo Gold in April 2022, and inherited the Mara Rosa gold project.
Located in the state of Goiás, the mine will produce 102,000 gold ounces per year in its first four years and have an average annual gold profile of 84,000 ounces based on an initial mine life of 10 years.
The mine will have a cost of approx. US$200M and recently was granted the environmental permit to start construction of the processing plant and pre-stripping.
The project will use conventional open-pit mining methods involving drill-blast-load-and-haul operations. The extracted ore will be loaded onto 45t trucks for transportation to a nearby processing plant capable of treating up to 2.5Mt of ore a year.

Borborema – Big River Gold /Aura Minerals

Aura Minerals purchased Big Gold River in April 2022
The Borborema project is expected to operate as an open pit gold project that will produce 70,000oz of gold a year. It is estimated that stage 1 will have a mine life of 11 years.
The plant will have 2Mtpa throughput, but studies have been completed to leave the possibility open for an expanded plant capacity of 4Mtpa.
Total capex is expected to be US$94.6 million. The upgraded plant of 4Mtpa would have an additional cost of US$34.8 million.

Almas – Aura Minerals

The Project consists of three separate open pit mining areas and a central processing facility.
The project is expected to have a construction cost of USD$73M and commercial production is expected by Q1 2023.
Average annual gold production is estimated at 51,000 ounces during the first four years of the Project, with an estimated life of mine of 17 years,

Santa Luz – Equinox

Santa Luz is expected to produce approximately 100,000 ounces of gold annually. Commercial production is expected in Q3 of 2022.
The proven and probable mineral reserves were estimated at 24.9 million tonnes (Mt) grading 1.34g/t gold (Au) for 1.07 million ounces (Moz) in contained gold
The mine has an estimated life of 9.5 years, including eight years of mining and 1.5 years of processing stockpiles
The project will require a capital investment of approx. $103m. It is a brownfield mine with most of the infrastructure already installed on the site.

Block 8 – Honsbridge Holdings

Owned by China's Honbridge Holdings, the project is currently waiting for permits due to opposition around the tailing dams.
The project is undergoing major changes and restructuring to incorporate innovations.
The mine has the capacity to produce 27.5 million tonnes of iron ore per year, with a 66.2% iron content.
Two dams are planned to receive the tailings, the larger one built by a technique called center line, with a capacity to store 845 million cubic meters of tailings (17 times more than the Samarco dam)
The dams are necessary to use wet processing to raise product content to 66.2%.
The company plans to minimize risk to workers and optimize performance by using remote-control machinery and robotic systems inside the active mining areas. Logistics within the site will be managed via a slurry pipeline which will be licensed, installed, and operated by an independent firm.
The operational license, which will fully authorize the company to start the mining and conversion process, is expected by the end of 2025.

 Jambreiro – Centaurus Metals

Jambreiro will require a capital investment of A$59.8m, delivering total revenues of A$750-million over an 18-year mine life.
The project is expected to produce 17.9Mt of high-grade (65% Fe), low-impurity product through a life of mine of 18 years.
Mining Licences and environmental approval are in place for production of up to 3Mtpa.
Process testwork and engineering study ongoing to dry stack all Jambreiro tailings in order to enhance future expansion opportunities and mitigate potential development delays following recent concerns about tailings dams in Minas Gerais.

Vermelho – Horizonte Minerals

Vermelho is a nickel-cobalt project located in Para, Brazil.
The proven and probable ore reserves are estimated to be 141.3Mt, graded at 0.91% Ni, 0.052% Cu , 23.1% Fe, 3.81% Mg, and 0.79% Al.
Pre-feasibility study (PFS) of the Vermelho project was completed in October 2019 and has estimated a development capital cost of USD$652m.
The Vermelho deposit is expected to produce 25,000 tons (t) of nickel and 1,250t of cobalt a year through its anticipated mine life of approximately 38 years.
The project is expected to create 1,800 jobs in the construction phase, in addition to 600 jobs during operations.

Piaul – Brazilian Nickel

The Piaui nickel project is an open-pit nickel-cobalt mining operation located in the state of Piaui
The measured and indicated resources of the Piaui nickel project were estimated to be 72 million tonnes (Mt) grading 1% nickel (Ni) and 0.048% cobalt (Co) as of March 2020.
Anticipated annual production guidance from 2023 of 1,400 tonnes of nickel and 35 tonnes of cobalt. The full-scale PNP operation could produce an average of 25,000 t/y of nickel and 900 t/y of cobalt,
As of July 2022, the mine is now in operation after an 18 month construction and commissioning period.

Tres Estradas – Aguia Resources

 

Tres Estradas phosphate mine is estimated to have 43.6Mt grading 4.31% phosphorus pentoxide.
The three-stage phosphate mine is anticipated to produce 300,000 tonnes per annum (tpa) of phosrock concentrate in the first stage.
The second stage will involve the production of one million tonne per annum (Mtpa) of aglime in addition to phosrock concentrate.
The estimated construction cost is expected to be USD$75.6m and it has an initial mine life of 18 years.
The company is focused on securing the Installation Licence (LI).
Ax Legal is an advisory firm that works with foreign companies in Latin America. Our team of legal and commercial advisors have a distinguished track record of helping foreign technology and services companies to grow and operate in Latin America. Over the years, we have worked with starts up, mid-size businesses, and publicly listed companies. The one common factor that connects are clients is that they are leaders in their field, providing innovative technologies and services to the industrial sectors.
To better understand how we can support you in the Region, please contact Cody Mcfarlane at cmm@ax.legal