Webinar Invite – Working with Partners in Latin America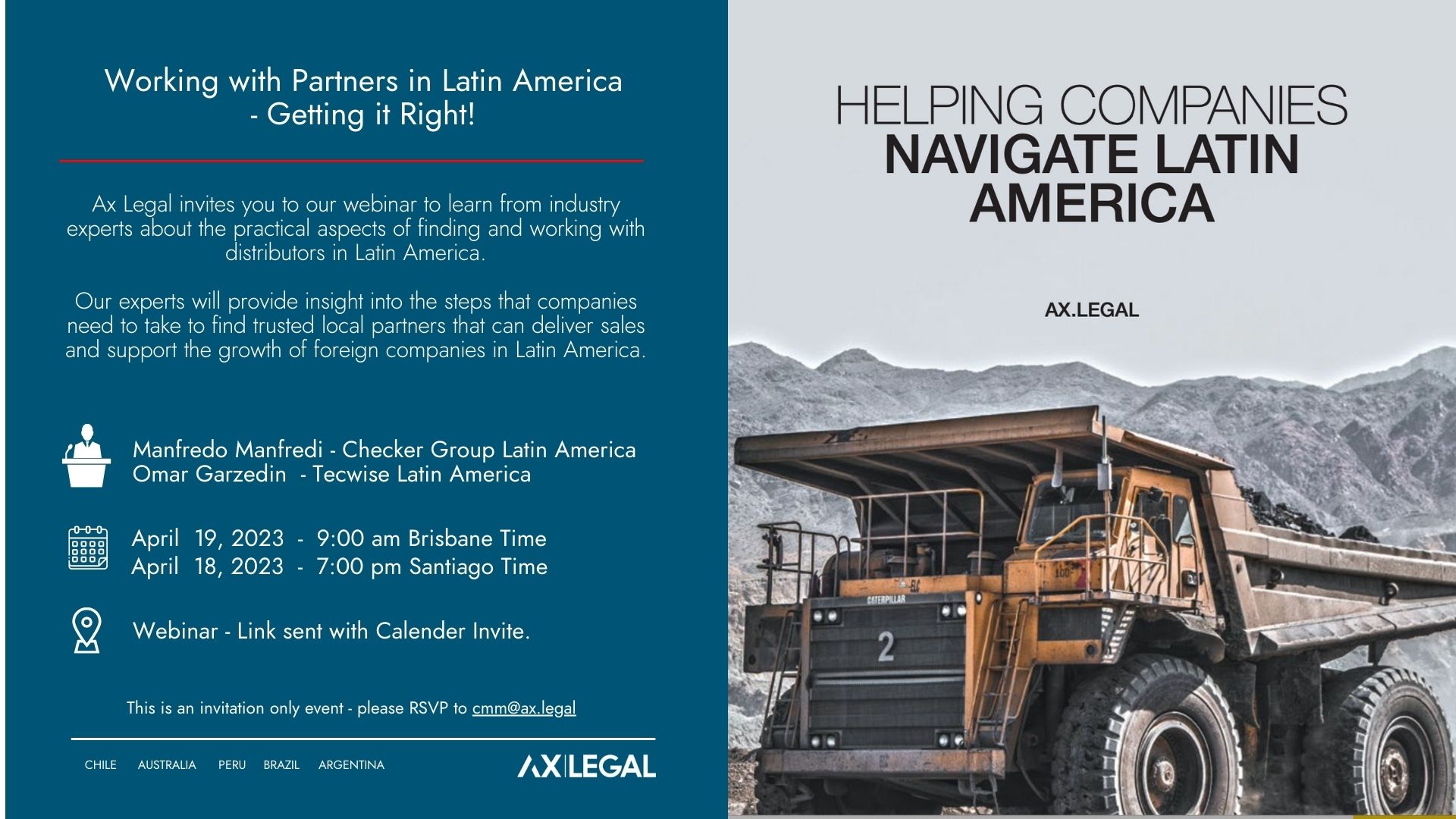 Working with Partners in Latin America – Getting it Right!
Ax Legal invites you to our webinar to learn from industry experts about the practical aspects of finding and working with distributors in Latin America. 
Our experts will provide insight into the steps that companies need to take to find trusted local partners that can deliver sales and support the growth of foreign companies in Latin America.
April 18, 2023 – 7 pm Chile time
April 19, 2023 – 9 am Brisbane Time
Confirm your attendence by emailing Cody McFarlane – cmm@ax.legal
Manfredo Manfredi – Manfredo is the Managing Partner of Checker Group that specializes in business development activities for mining solutions providers. Manfredo has been the General Manager of companies such as Modular Mining, Groundprobe, Immersive Technologies, and Envirosuite.
Omar Garzedin – Omar is the CEO of Tecwise, a company that has been representing mining technology companies in Brazil and Chile for over 20 years. Currently, Tecwise works with companies such as RCT, Immersive Technologies, Bentley, and Cisco, to name a few.
Ax Legal is an advisory firm that works with foreign companies in Latin America. Our team of legal and commercial advisors have a distinguished track record of helping foreign technology and services companies to grow and operate in Latin America. Over the years, we have worked with starts up, mid-size businesses, and publicly listed companies. The one common factor that connects our clients is that they are leaders in their field, providing innovative technologies and services to the industrial sectors.
To better understand how we can support you in the Region, please contact Cody Mcfarlane at cmm@ax.legal