Project Spotlight – Sierra Gorda Copper Mine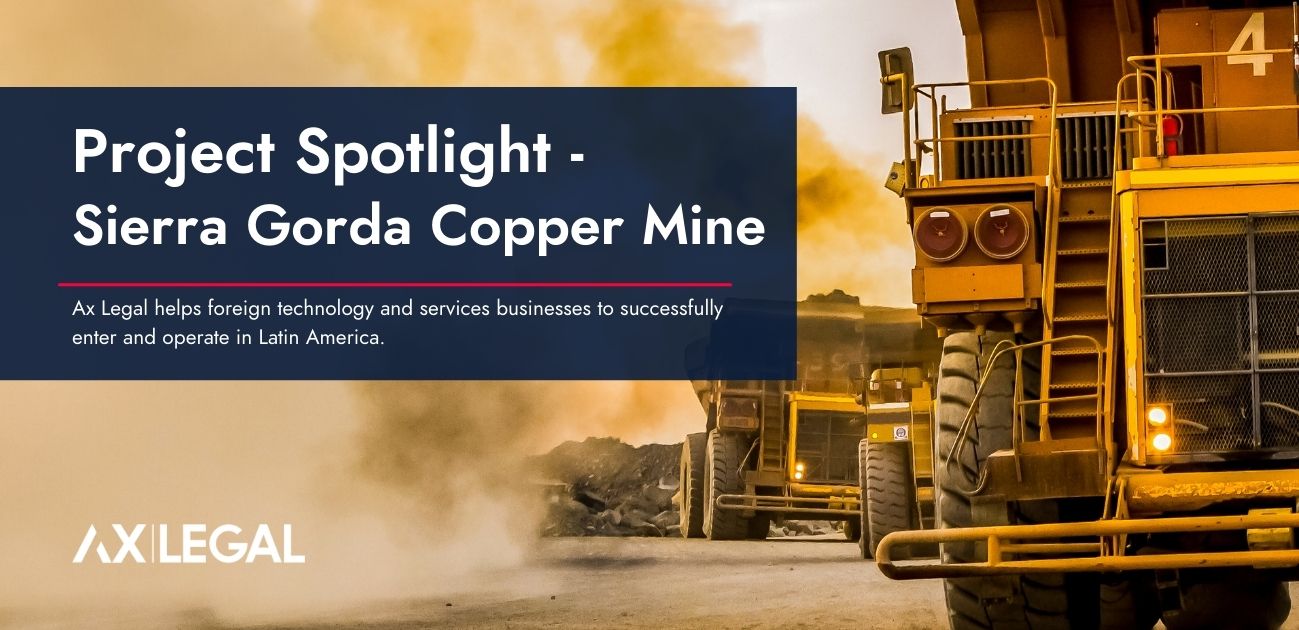 Often for our project spotlights, Ax Legal looks at projects that are advancing towards construction. For this edition, we will be looking at the Sierra Gorda mine which has an interesting story and is relatively new in mining terms with operations only starting in 2014. The mine is a perfect example for the industry of how large-scale projects can be risky and not always operate as planned.
As background, Sierra Gorda was plagued with problems for years after it started production. The mine failed to meet production expectations due to challenging metallurgy and difficulties in using seawater for processing. This increased the project's costs and resulted in a significant writedown of the asset value.
The majority shareholder, KGHM, faced scrutiny back home in Poland for overspending on the project and failing to reach its daily ore processing level planned for the first stage. The failed production targets meant that the shareholders were supporting the operations financially through the first years as the mine tried to get itself back on track. Today, the Sierra Gorda project is producing records amount of copper, is profitable, and has some exciting developments.
Ownership
Sierra Gorda was originally a JV between Japanese firms Sumitomo Metal Mining Co. Ltd. (31.5%) and Sumitomo Corp. (13.5%) and Polish mining company KGHM International Ltd. (55%),
KGHM acquired Sierra Gorda when it purchased Quadra FNX Mining in March 2012. It was the start of the polish miner's largest investment outside Poland.
In February 2022, it was announced that South32 would become joint operators of Sierra Gorda with KGHM after Sumitomo Metals and Sumitomo Corp sold their stake for USD$1.4n.
Sierra Gorda –  Project Overview
Sierra Gorda Mine is a copper and molybdenum open pit mine which started production on October 1, 2014.
Construction of the mine began in 2011 and pre-stripping works completed in April 2014. The project became one of the world's biggest molybdenum producers at the time.
The initial throughput rate 110,000 tonnes per day, with expansion after three years to 220,000 tpd. The 20-year mine life was based upon current sulphide resources with an upside potential to process an additional 237 Mt of oxide resources.
Mining processes include ore blasting, loading and transport by haul trucks to a processing plant with an average throughout of 110,000 tonnes of ore per day, where it is subjected to crushing and grinding processes. A plant with molybdenum concentrate separation is used for ore flotation.
Sierra Gorda operates with the use of seawater from the cooling systems of a power plant in the town of Mejillones. Instead of being recycled to the sea, the water is pumped to the mine through a 144 km pipeline.
Sierra Gorda –  Newest Developments
Sierra Gorda SCM is the only mine in Chile that has exceeded its design parameters. The copper ore beneficiation plant was designed to process 110,000 tons of ore per day, and in 2021 the average daily processing throughput was 130,000 tons, which is 18 percent more than the plant's design capacity. 
Since January of this year, the Sierra Gorda mine has been operating 100% on electricity from Renewable Energy Sources. A long-term power purchase agreement in place until December 2039 with AES Andes supplies approximately 1,310 GWh of renewable energy. This change means a reduction in annual emission of one million tons of CO2.  
The mine uses several innovative solutions, such as high-pressure roller crushers, which minimize energy consumption with their crushing operation. On top of that, it is the first mining company in Latin America to use an autonomous robot that counts the stock in the equipment warehouse. The data is available immediately in an integrated system.
The Sierra Gorda mine uses only seawater in the production process. Only 10 percent of the seawater is desalinated and used in the molybdenum production process and in the operation of the camp for the workers located in the desert.
The Sierra Gorda staff also boast a three-time world record with an excavator. Using a P&H 4100 XPC AC electric excavator, they managed to load 230,400 tons in 24 hours. This achievement, without precedents in global mining, was made in 2020. The record was later broken twice by the Sierra Gorda workers as well.
Sierra Gorda – For the future
In 2018, KGHM was granted environmental approval for a $2B expansion of the mine, which would extend its productive life by 21 years and increase production to 220,000 tons of copper a year, molybdenum production of 25 million tons, and gold output at 64,000 ounces a year.
The Sierra Gorda Oxide project involves leaching of the oxide ore and production of high-quality copper cathodes in the SX-EW plant. Most of the oxide ore resources is already mined and located in a proximity of the future location of the plant. The oxide ore will be leached on a permanent heap with sulphuric acid solutions. Copper cathodes will be produced from the leaching solution in the solvent extraction and electrowinning (SX-EW) plant.
Despite the permit, the company did not move forward with the expansion, but this might change now that the mine is operating above its designed capacity. For now, the company has been doing smaller projects each year to help the mine grows it production.
More recently, Sierra Gorda started construction of its US$400m tailings management optimization project. The project was approved by the Antofagasta environmental evaluationin 2022 and is expected to be completed by the end of 2023.
The project increases the area of its tailings deposit by 571ha to boost the rate of evaporation and minimize the possibility of seepage. Work will also include additional facilities, construction of additional tailings walls, a pump room for tailings distribution and pipes, among other things. The work was needed to ensure the mine could support a larger production target.
Ax Legal is an advisory firm that works with foreign companies in Latin America. Our team of legal and commercial advisors have a distinguished track record of helping foreign technology and services companies to grow and operate in Latin America. Over the years, we have worked with starts up, mid-size businesses, and publicly listed companies. The one common factor that connects our clients is that they are leaders in their field, providing innovative technologies and services to the industrial sectors.
To better understand how we can support you in the Region, please contact Cody Mcfarlane at cmm@ax.legal