Chile Project Spotlight – Costa Fuego Project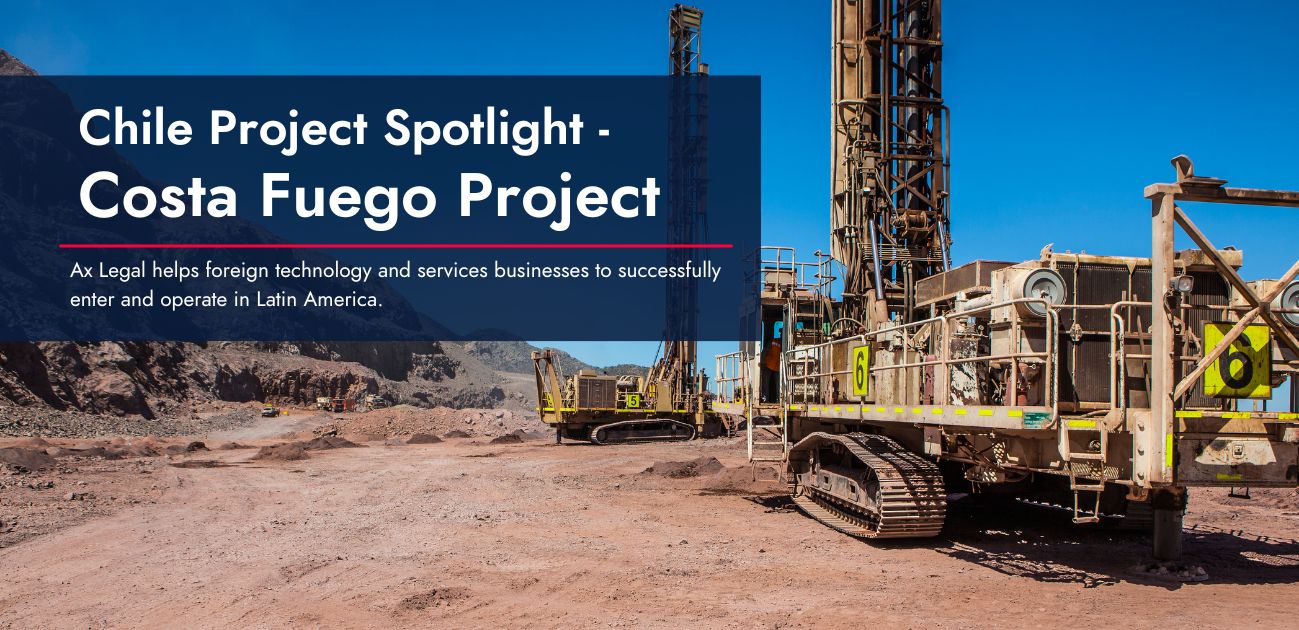 Chile is one of the top jurisdictions in the world for copper due to the size of the deposits and consistency in grade. At a time when the world needs to find more of the metal, there are only a few examples of junior exploration companies that have been able to make significant discoveries over the last 10 years in Chile.
This is set to change with the recently released Preliminary Economic Assessment (PEA) for Hot Chili's Costa Fuego Copper-Gold Project. The company has been releasing positive drills results over the last few years to great fanfare from the investment community, but the scoping study that was recently released brings Hot Chili one step closer to making the discovery a reality.
Hot Chili's success is also attracting the attention of majors. Glencore announced last year that it took a strategic position in the company – and a seat on the board through a $35m investment making it the company's largest shareholder (9.11%). A great sign for a junior exploration company and a signal to the market that they are onto something.
As background, Hot Chili is an Australian junior that has quadrupled its resource base in 10 years. It is developing three projects that are all in near proximity of each other – Cortadera, Productora, and EL Fuego. The goal has been to consolidate the projects to form a major copper mining hub on the Chilean coastal range. Costa Fuego is the result of this massive effort.
Based on the PEA, the copper-gold project aims to brings together its Cortadera and Productora copper-gold deposits, which are located 14 km from each other. The US$1bn project will pump out 112,000 tonnes of copper annually making it world's lowest capital intensity, major copper developments. This is possible due to the properties sitting near the coast where there is infrastructure to support an operating mine.
Costa Fuego Project Spotlight
Costa Fuego is set to have an initial mine life of 16 years with 1.41 million tonnes of copper and 718,000 ounces of gold produced for total revenue of around $13.5bn.
The scoping study suggests it could churn out about 112,000 tonnes of copper equivalent each year.
The PEA puts a price tag of USD$1.05b to build the mine and the payback period will be 3.5 years.
Average annual operating costs have clocked in at US$1.33 (AU$2) per pound of copper in the study, positioning the company at the low end of the cost curve among its industry peers.
The plan is to locate a central processing plant at Productora with the Cortadera resource to be conveyed (~14 km) to it.
The low altitude of the property means that the capital costs can be kept low since the mine is located near highways, railways, power sub-stations, and a major port facility at Huasco, which is located ~50 km northwest of the proposed plant at Productora.
Additional savings are found by not having to build a desalination plant. The company received better recoveries using salt water. The ability to use sea water and not having to pump it high into the Andes is an important factor helping to reduce the capital costs.
In addition, Hot Chili has already secured easement corridors for power and water pipelines, secured electrical connection to grid, and granted maritime concession with land access.
What's Next for Costa Fuego?
Hot Chili intends to release the pre-feasibility study (PFS) of the Costa Fuego copper-gold project by the second half of 2024. The company said that 80% of workstreams for supporting a PFS are completed, with only minimal study costs left.
Hot Chili is currently studying a single, large pit scenario for the Cortadera deposit, which has the potential to significantly extend the mine life and increase the scale of the project. The study is set to take place in the second half of this year.
Hot Chili recently announced that it has executed a binding US$15 million investment agreement with Osisko Gold Royalties which will fund the next phase of development.  
The company will use its recent financing to start a 30,000m drilling program to target resource extensions, in addition to exploring additional priority prospects designed to feed into a resource upgrade by late 2023.
Hot Chili would like to grow the life of mine to over 20 years. Company executives have also stated that the next resource upgrade will include about two years' worth of drilling and will likely take them comfortably over 1 billion tonnes.
Conclusion
At a time where there have been very few large greenfield copper discoveries, it has been exceptional to see a company like Hot Chili develop a project to the point where it is today. With more drilling targets in sight, the resource base is expected to continue growing as the company finishes off its pre-feasibility study in 2024.
Hot Chili has set a target of having an investment decision by the end of 2026. New copper production will be critical in the second half of this decade when prices are expected to increase which fits well with Hot Chili's development timeline.
With all the major mining companies looking to add copper projects to their portfolio, it will be interesting to see what the end game looks like for Hot Chili.  
You can check out the full presentation here.
Ax Legal is an advisory firm that works with foreign companies in Latin America. Our team of legal and commercial advisors have a distinguished track record of helping foreign technology and services companies to grow and operate in Latin America. Over the years, we have worked with starts up, mid-size businesses, and publicly listed companies. The one common factor that connects our clients is that they are leaders in their field, providing innovative technologies and services to the industrial sectors.
To better understand how we can support you in the Region, please contact Cody Mcfarlane at cmm@ax.legal