Ecuador Project Pipeline Update – USD$650m Mirador Copper Norte Expansion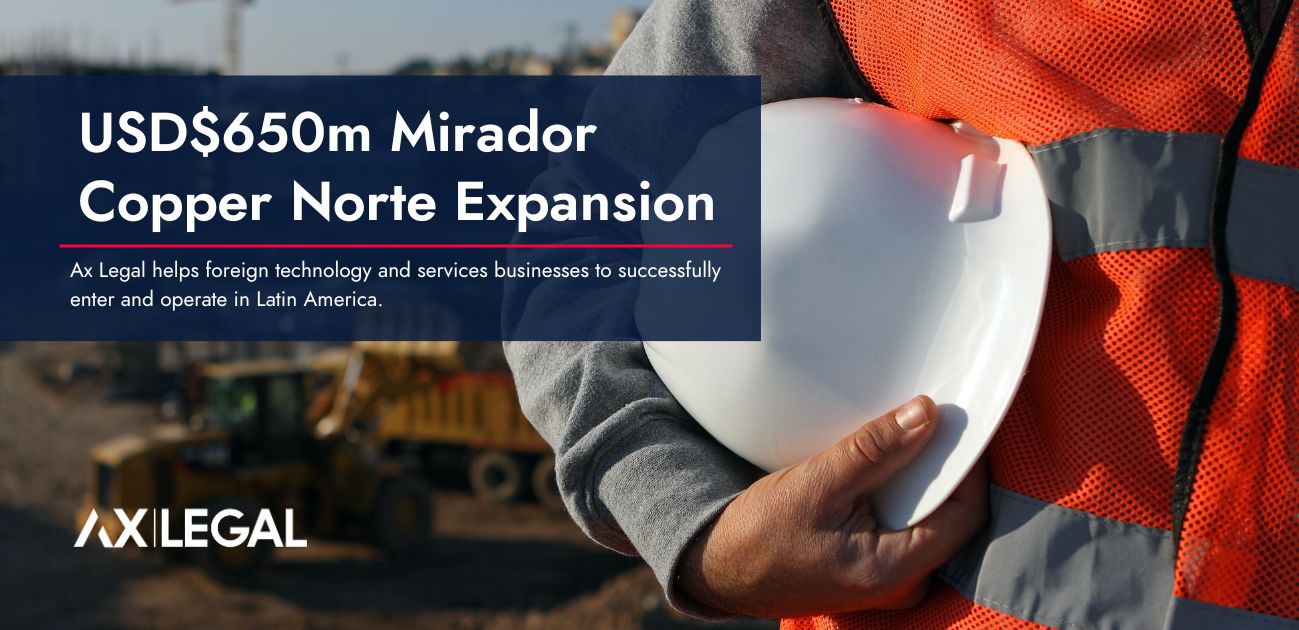 Ecuador is considered relatively untapped in terms of exploration. With only 10% of the country explored, Ecuador has incredible potential due to its location at the northern end of the Andes Mountain range. Ecuador is estimated to have sizeable reserves in numerous minerals but it is gaining a reputation for its world-class copper and gold deposits.
The Ecuadorian Mines and Energy Ministry said previously that the government expects to generate over $4 billion in annual mining exports by 2025 with 4 new operations coming into operation before the end of President Guillermo Lasso's term in 2025, including the Cascabel project, held by Australia's SolGold. We have written about the project pipeline before here.
Over the last few weeks there have been several new positive developments for the Ecuadorian mining market. Specifically, EcuaCorriente, plans to invest US$650mn-US$700mn to increase output of its already operating Mirador copper mine which will greatly increase Ecuador's copper exports.
Mirador Copper Mine
Mirador is a large-scale, open-pit, copper-gold project that went into production in 2019.
The project contains 3.2 million tonnes (Mt) of copper, 3.4 million ounces (Moz) of gold, and 27.1Moz of silver in proven and probable reserves.
Mirador is currently the largest mine in Ecuador and is one of only two large scale mines in operation, along with the Fruta del Norte gold mine.
The current mining and processing production scale is 20MT of ore processed per year, or 60,000t daily.
The company also has Mirador Norte, which is located a few kms north of the Mirador copper-gold project.
Mirador Copper Norte Expansion
The expansion will see the development of the north orebody and eventually see a production scale of 120,000t of ore per day.
Copper and gold mineral resources have indicated resources of 171 million tonnes of 0.51% copper and 0.09 g/t gold and Inferred resources of 46 million tonnes at a grade of 0.51% copper and 0.07 g/t gold.
Mirador Norte increases the estimated resources available for processing at the planned Mirador concentrator by 28% to 11 billion pounds of copper.
Last week, the Energy and Mines Ministry and EcuaCorriente signed a final agreement to make an addendum to the production contract to allow the increased output.
The objective is to increase the mine's throughput substantially, allowing copper concentrate production to rise progressively from the current 800t/d to 2,000t/d by 2026 with an investment of around US$650mn.
The company plans to build a new plant parallel to the existing facility, which could cost between US$300mn and US$400mn and would handle production from the Mirador Norte deposit.
Of the total investment planned, around US$138mn will go to production, and US$80mn will go to expanding the current tailings dam and building a new one. The rest will go to items such as ancillary facilities and minor works.
Other Ecuador Updates – Cascabel
Energy and Mines Minister Fernando Santos recently said they will sign another agreement with SolGold that will allow the company to start building its US$3bn Cascabel project.
The minister assured again that an agreement had been reached with the company for it to pay royalties of up to 8%, according to output and the price of copper on the international market.
The company will not have to pay royalties in advance like EcuaCorriente and Lundin Gold had to do for their mines.
According to the minister, construction of the underground mine would take four or five years and preparation of the site and other construction works could begin by the end of this year.
Other Ecuador Updates – Ruta del cobre 
Grupo México is analyzing the Chaucha deposit to make a final evaluation. The Minister says the project is very large but has some problems because some water courses must be diverted, which makes it a very expensive project. 
Conclusion
Ecuador has done a great job of turning around the industry since 2015 and is now starting to see the benefits with 2 projects in production and some world class discoveries that should be built over the next few years. The Ecuadorian government is predicting a total investment of around US$11bn for the construction of seven mines that are expected to go into production in the next few years.
There is still significant work that needs to be done by both the government and private industry to overcome some of the challenges around community opposition, indigenous rights, and illegal mining. This could be a pivotal year for the mining sector in Ecuador with projects advancing and companies committing to construction start dates.
Ax Legal is an advisory firm that works with foreign companies in Latin America. Our team of legal and commercial advisors have a distinguished track record of helping foreign technology and services companies to grow and operate in Latin America. Over the years, we have worked with starts up, mid-size businesses, and publicly listed companies. The one common factor that connects our clients is that they are leaders in their field, providing innovative technologies and services to the industrial sectors.
To better understand how we can support you in the Region, please contact Cody Mcfarlane at cmm@ax.legal