Codelco Spotlight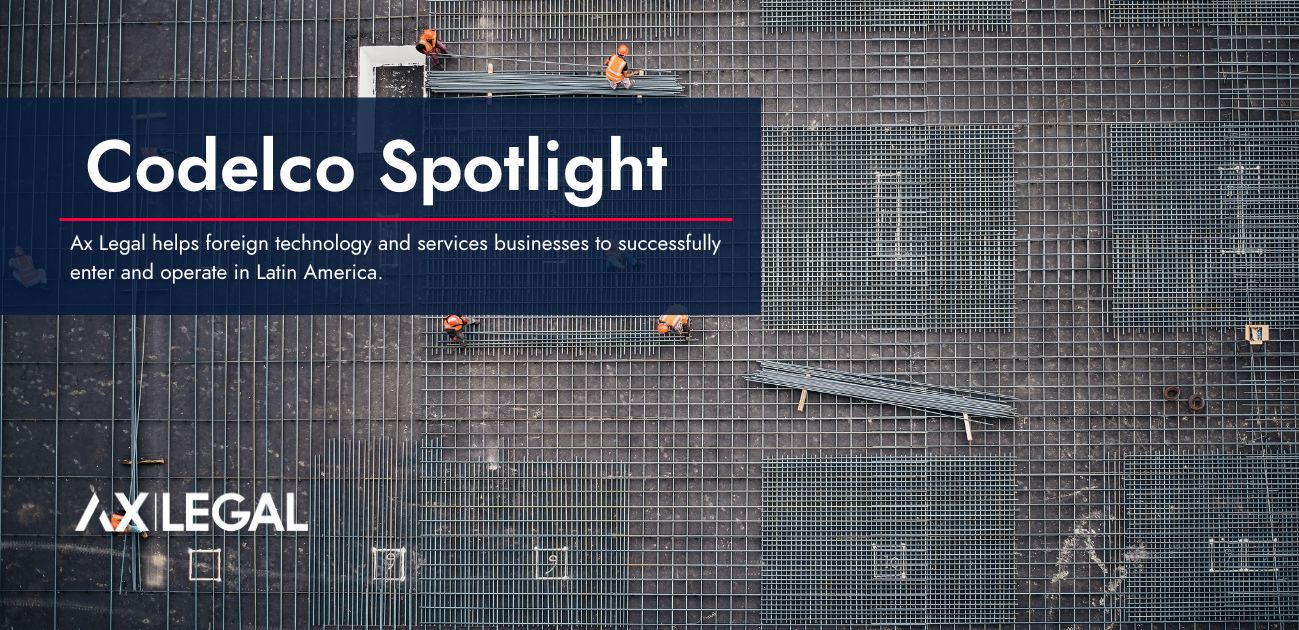 Codelco's title as the world's largest copper producer is now in jeopardy.  At a time when the world needs more copper, Codelco has seen its production drop to a 25-year low as it struggles to overhaul aging operations in Chile.
Codelco recently reported that it will hit the lower end of its annual copper production forecast of between 1.31 million and 1.35 million tons in 2023. That puts Freeport-McMoRan and BHP right on its tail in terms of production this year putting the top position at risk.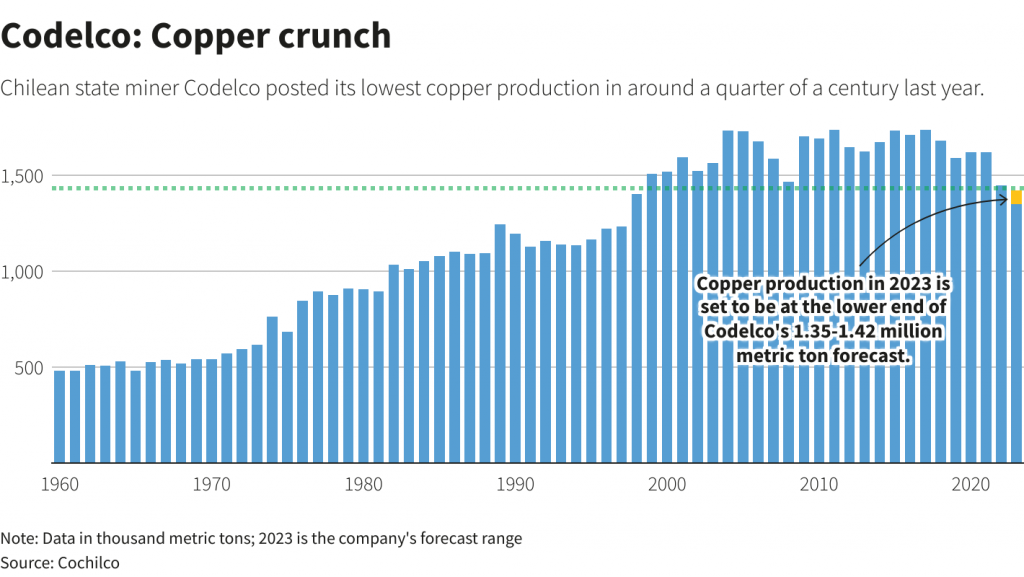 From an operational standpoint, Codelco faced lower grades in the Ministerio Hales division, a drop in the recovery rates of the concentrator plants in the Chuquicamata and El Teniente divisions, and operational problems that were caused by the postponement of maintenance during COVID.
Codelco has several structural projects that are meant to boost copper production and set the company up for the next 50 years. The issue is that those projects have been plagued by delays due to construction accidents, difficult geotechnical conditions, and now cost overruns.
Codelco recently stated that it expects it will take until 2030 to recover production capacity of 1.7 million metric tons per year. 
Structural Projects
Chuquicamata Underground: 

The project involves transforming the famous open-pit mine to an underground operation with a useful life of 40 years. The transformation requires a total investment of US$6.3bn which is expected to boost production from the current 50,000t/d to 140,000t/d.
Currently, it is only operating at 35% of capacity. It has been very complex to transition to underground mining. The mine was originally scheduled to In terms of costs, the budget is 53% more than originally forecasted.

Andina Transfer Project:  

The project required an investment of US1.7bn –  21% higher than the original budget.
It is projected to extend the mine by 30 years. It involves transforming the mine to an open pit, building a new primary crushing station, and a new transportation system.
The project is due to be completed this year and has a design capacity of 240,000t/y.

El Teniente: 

Codelco seeks to deepen mining at the underground operation by three levels which will increase the mine life by 50 years.
It was originally expected to be completed in 2023. Construction began in 2011, but geomechanical problems paralyzed progress until 2017. The project was split into three smaller projects to diversify risk – Andes Norte, Diamante and Andesita.
The project currently has a budget of US$5.6bn which is 75% more than orignally planned. The latest news is that production is delayed by one year and the material handling system in Andes Norte by three years

Inca Open Pit: 

The project required an investment of US$1.34bn and has a projected mine life of 40+ years. It involves optimizing the operation from underground to an open pit mine and was expected to be finished in 2023.
The most recent update is that the project is currently 16 months behind the initial schedule and has achieved 43% progress. Production is expected start in 2024. The project budget is being reviewed and there is expected to be cost overruns due to the delay.

Desalination Plant

The project involves an investment of more than US$1b and will employ of up to 2,700 people at the peak of the three-year construction period. Expected date of operations is in 2026. 
The project will be a sustainable and cutting-edge technological solution based on the design of a desalination plant that will operate by reverse osmosis, with an initial capacity of 840 liters per second and with the potential to expand to 1,956 liters per second.

Andina Future Development:

The project required a total investment of US$3.29bn to expand to 150,000t/d of ore and it is projected to be completed by 2026.
 It ihas been postponed numerous times and construction has not started yet.     

Ministro Hales Mine

The most recent addition to Codelco Project portfolio. The company  is seeking an environmental permit to extend the operational life of its Ministro Hales mine by 30 years with an investment of USD$2.5bn. No timeline for construction has been announced yet.
The expansion aims to boost the mine's copper concentrate production capacity from the current 700,000 tonnes per annum (tpa) to 830,000tpa.
Debt & Financing
With cost overruns at its projects, Codelco is facing higher debt levels. Codelco's debt ended last year at US$18bn and is projected to increase to over US$30bn by 2027.
Last year the government decided to reinvest 30 percent of the profits generated by the state-owned copper back into the company's projects. This is great news except that operational troubles could limit profitability making it likely that the real amounts reinvested back into the company are lower than originally projected.
The company still has an excellent credit rating, atlhough pressure could mount as it needs to spend to finish its structural projects. Debt and financing costs will need to be watched as the company navigates this difficult period.
Entry into Lithium
Codelco has been thrown in the spotlight this past year as it is one of two state owned entities that are tasked with developing the lithium sector. Codelco has set up two entities that will enter into agreements to develop projects with public and private companies.
It also has been exploring the Maricunga salt flats by itself, with recent exploration results showing that it has the second highest lithium concentration in the world. It has spent USD$15m on exploring the property to date and more drilling will take place soon.
It is not clear right now how Codelco's entry into the lithium industry will affect its copper business. The company has stated that it feels it can take on the challenge without having negative consequences. Given the recent string of headlines, there could be some doubters. 
Conclusion
Codelco is between a rock and hard place. Operational Issues at its mines are putting pressure on its current copper production output. New production was supposed to come online already but delays to all its structural projects have pushed back timelines. The consequence is that Codelco is being squeezed at both ends, bringing its production to a 25-year low with the hope of recovering to 1.7m tons by 2030.
Codelco has been world's leading copper producer for the last 50 years. The company has a strong project portfolio to continue being in the number one spot but it will need to better execute on the projects it currently has underway. Time will tell whether the company can maintain its title. 
Ax Legal is an advisory firm that works with foreign companies in Latin America. Our team of legal and commercial advisors have a distinguished track record of helping foreign technology and services companies to grow and operate in Latin America. Over the years, we have worked with starts up, mid-size businesses, and publicly listed companies. The one common factor that connects our clients is that they are leaders in their field, providing innovative technologies and services to the industrial sectors.
To better understand how we can support you in the Region, please contact Cody Mcfarlane at cmm@ax.legal