Chile Mining News – The Latest Round Up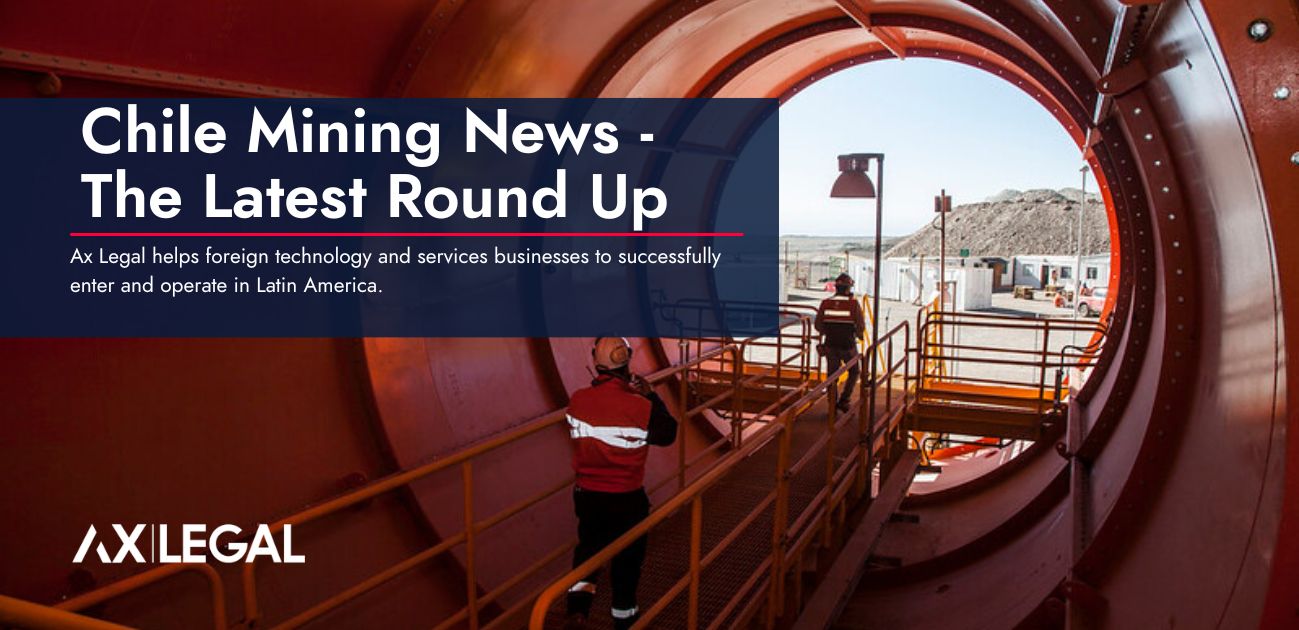 Chile is considered as a model to the rest of Latin America. The mining sector has been a helped the country move into middle income status representing 10.9 percent of the country's GDP, providing an average of 7.8 percent of tax revenue and 388,754 jobs for Chile. For every $100 contributed by mining to the economy, at least another $36 is generated indirectly. 
Since the pandemic, the USD$60B plus project pipeline has not advanced as fast as many would have hoped. There has been uncertainty around a new constitution and changes to the mining royalty over the last few years. With this uncertainty mostly over, there have been more announcements on new projects or investments.  
Check out our round-up of the latest news to see the most important updates from the last couple of months.
Chile's Enami Update – Lithium and Smelter Modernization
Enami, a state owned company, has a mandate to promote Chile's small and midsize mining sector by carrying out toll milling and processing and granting credit at favorable rates to companies. It has now been tasked to help develop the lithium industry.
Enami has a 10% stake in the Quebrada Blanca and Carmen de Andacollo copper mines operated by Teck, and carried out the initial exploration at what eventually became the Los Pelambres Copper mine.
The latest news is that the state-owned company is moving forward with lithium projects such as Salares Altoandinos and the modernization of the Hernán Videla Lira copper smelter/refinery.
Lithium –
A new subsidiary was created called Enami Litio. This new entity would be managing the US$1.5bn Altoandinos project that comprises the La Isla, Aguilar, Las Parinas, Infieles and Grande salt flats.
The La Isla salt flats have the greatest geological potential with grades of up to 1,080ppm at a depth of around 27m. The Aguilar salt flats have maximum grades of 814ppm.
Enami is advancing preliminary environmental study and reviewing direct extraction technologies. They have signed agreements for 38 technologies and are now performing laboratory tests with the brines to understand how they react with the different technologies.
Refining –
Enami must lead the modernization of their smelter located in Paipote. The aim is to transform the plant into a modern, profitable smelter with high environmental standards.
Enami has an environmental impact study underway that it hopes to submit to environmental authorities in November. Enami will need engineers and construction experts to coordinate the feasibility studies.
The modernization aims to reach the first quartile of costs in the industry at close to US$0.10/t, implement new facilities and double the current processing capacity. 
Paipote, was the first state-owned smelter in the country and opened in 1952. It has a nominal processing capacity of 340,000t/y.
Codelco currently has a debt of US$17.2bn at the end of last year and a 10.7% drop in copper production in 2022 to 1.4Mt, with a further decline expected for this year.
Recently the CFO and CEO departed the company and there have been some unfavorable media reports on the condition of the company.
Chairman Máximo Pacheco recently commented that the company is focused on financing and completing structural projects.
Codelco will accelerate the development of the new level at the Andina division, the Chuquicamata underground mine, the project portfolio at El Teniente and the new Rajo Inca pit at Salvador, along with strengthening operations at the Ministerio Hales mine. See details here. 
This will be the worst year of the 2023-27 period for Codelco but production will increase from 2024 until reaching around 1.7Mt/y copper at the end of the decade.
Factors that will contribute to the rebound include the recovery of the concentrator at Andina and the increase in capacity of the Chuquicamata smelter and refinery which has been expanded from 700,000t to 1.15Mt
Lundin's US$600mn Optimization Project
Lundin Mining received approval from regional environmental authorities for its US$600mn optimization and operational project that will extend the life of the Candelaria copper mine until 2040. Approval from the national environmental authorities is expected in October.
The project will extend the operations at Candelaria for an additional 10 years from 2031 as previously authorized, by expanding waste rock disposal areas, installing a new crushing system for underground mining and establishing new mineral reception areas for third parties and small-scale independent miners.
The works also involve expanding Lundin's 500l/s desalination plant at Punta Padrones port, about 100km from the operations, which supplies all of Candelaria's water needs.
Candelaria has suffered from declining ore grades, which Lundin will seek to offset with improvements to the extraction process that will allow it to maintain throughput of 90,000t/d as an annual average and reach an average ore extraction rate of 384,000t/d.
Candelaria achieved production of 174,000t of copper equivalent in 2022, and this year it is expected to slip to 145,000t-155,000t copper equivalent.
Altair – US$250mn Chile Project
Altair is seeking environmental approval for a US$250mn project to give operational continuity to the La Farola copper and gold mine.
If permits are obtained, construction would begin in October next year with the aim of processing around 15,000t/d of ore at a concentrator plant that will be installed 1km from the deposit to produce copper concentrate with gold content.
Altair is also planning to build a filtered and sterile tailings deposit, and use the latest technologies to optimize metal recovery and achieve low water and energy consumption,
The useful life of the mine would be 19 years and one month, when considering the construction, operation and closure phases.
Rio2 Chile Gold Project Update
Rio2 is awaiting the outcome of an appeal to the rejection of the environmental impact assessment to begin construction of its Fénix gold project in Northern Chile.
It was previously rejected by regional authorities rejected due to possible impacts on native flora and fauna.
In the meantime, the company rrecently released the results of feasibility study for the project.
Estimated annual gold production for the first 12 years is put at 91,000oz and 54,000oz in years 13-17, the final years the stockpiled ore is processed.
The study outlines initial investment of US$117mn and construction works taking 14 months. Mining is scheduled at a rate of 20,000t/d, rising to 80-100,000t/d in a second stage when output is estimated at over 250,000oz/y.
Initial capex estimates exclude pre-construction activities completed to date which include construction of a 565-person camp, water loading infrastructure in Copiapó, the purchase of long-lead items such as electrical switchgear, electrical transformers, pumps, prefabricated components of the adsorption/desorption process plant, and preliminary earthworks. This pre-construction capex totaled approximately $29 million.
The company hopes to receive the green light this year.
Capstone Copper Plans for Chile
Capstone believes it can create a mining district in northern Chile with the integration of its Mantoverde and Santo Domingo operations in Atacama region. 
In addition to achieving total output of 200,000t/y copper, the district would produce between 4,500t/y and 6,000t/y of battery-grade cobalt at what the company executives believe will be the lowest cost in the world outside of China and the Democratic Republic of Congo.
Mantoverde is currently in construction which was 88% complete as of the end of June, with total project spend at approximately US$706mn of a budget of US$825mn. The project will extend the life of Mantoverde to at least 2041 and will produce an average of 110kt of copper and 33koz of gold per year from 2023 to 2030. 
Santo Domingo has commissioned Ausenco to update the feasibility study, with that work set to be completed by the end of the year.
The company believes the synergy between the two units will unlock US$80mn-100mn per year due to lower operating costs, capital savings in infrastructure and optimization measures in water and energy consumption. It will also expand the capacity of its Mantoverde desalination plant to 380l/s from 120lt/s in a first stage, before later increasing maximum output to 840lt/s.
Chile Lithium – Wealth Minerals seeks to partner with Codelco and Enam
Wealth Minerals owns 144 initial exploration concessions in the Salar de Atacama salt flat in northern region Antofagasta that cover 52,100ha, where the Atacama project is located.
The Atacama project will have initial capacity of 20,000t/y of lithium carbonate equivalent (LCE) that will be expanded to 200,000t-250,000t/y in 2030-34. The company is preparing a feasibility study that it hopes to submit in 2026 to obtain a development permit by 2028.
The Ollagüe project consists of some 9,600ha. Its latest studies indicated estimated resources of 1.4Mt of LCE. Wealth Minerals will continue exploring Ollagüe until 2025 with the aim to have capacity of 20,000t/y of LCE.
The company signed an agreement in July with the Indigenous Quechua Community of Ollagüe.
Fitch – Chile Draft Constitution Impact
A draft constitution is being put together by a conservative-leaning body. The previous draft was overwhelmingly rejected by voters and contained spending and regulatory proposals that could have impacted the economy of the country.
The new proposal is unlikely to succeed either – based on polls, only roughly a quarter of Chileans would vote in favor of the draft,
Fitch has stated that if the draft constitution is approved, it would unlikely have negative implications for the country's credit rating. The rating agency also added that the government is unlikely to succeed in getting a tax reform through congress, at least in the short term.
Fitch forecasts that the economy will contract 0.3% this year before expanding 2.2% in 2024. Inflation is cooling and the central bank has started to trim the benchmark rate.
Fitch maintains Chile's 'A-' rating and has the highest rating in the region. 
Chile launched a 2023 to 2050 Mining Strategy for Antofagasta region.
Although Antofagasta is a major mining hub, the region's income inequality is among the highest in the country and unemployment exceeds the national average according to the OECD.
The strategy was created jointly by OECD officials, Universidad Católica del Norte and the regional government.
Sustainable mining is a major topic, including greenhouse gas emissions reductions, lowering consumption of continental water, and using more renewable energy and hydrogen.
The strategy is also expected to foster female labor participation and local employment, help contract local suppliers, use common logistics and infrastructure, and build alliances with local universities.
Institutionally, the strategy covers improvement of regional resources and capabilities, innovation and productivity, among other issues to prepare Antofagasta's mining industry for the high global demand for energy transition minerals and digital needs
Approval for Anglo El Soldado Operational Continuity Project
El Soldado copper has received approval from environmental authorities.
The US$40mn initiative will incorporate sustainability criteria to reduce energy consumption, emissions and waste generation. The project will ensure the useful life of the mine until 2027.
The environmental impact assessment for the project includes bulk ore sorting, an automated classification system to separate high and low-grade material.
Construction of the project is estimated to need 18 months and will begin once the company obtains all the specific sector permits, the release added.
El Soldado's produced 13,700t of copper in Q2, up 83% compared to the same period last year thanks to higher grades.
BHP's Escondida files with Environmental Authorities
BHP's Minera Escondida filed an environmental impact statement for a US$42.8mn project that will extract 15Mm3 of aggregates for use in its infrastructure works as part of the asset's 2050 operational continuity plan.
The company also seeks to improve electric power supply by incorporating a 69kV high-voltage transmission line, a 4.16kV transmission line, an electrical substation and two electrical rooms that will provide electricity to a water collection tower near the Laguna Seca tailings dam.
Codelco files with Environmental Authorities
Codelco filed an environmental impact study for a US$2.5bn project to extend production at the Ministro Hales district from 2025 to 2054.
The company wants to increase the processing rate to 65,000t/d to achieve an increase in copper concentrate production of 130,000t/y, reaching 830,000t/y.
The plan ties into Ministro Hales' future development, which is also in the permitting stage. At the site, Codelco has improved the concentrator's performance, which is expected to be completed this year, its sustainability report said.
Ministro Hales produced 152,167t of fine copper in 2022.
Ax Legal is an advisory firm that works with foreign companies in Latin America. Our team of legal and commercial advisors have a distinguished track record of helping foreign technology and services companies to grow and operate in Latin America. Over the years, we have worked with starts up, mid-size businesses, and publicly listed companies. The one common factor that connects our clients is that they are leaders in their field, providing innovative technologies and services to the industrial sectors.
To better understand how we can support you in the Region, please contact Cody Mcfarlane at cmm@ax.legal